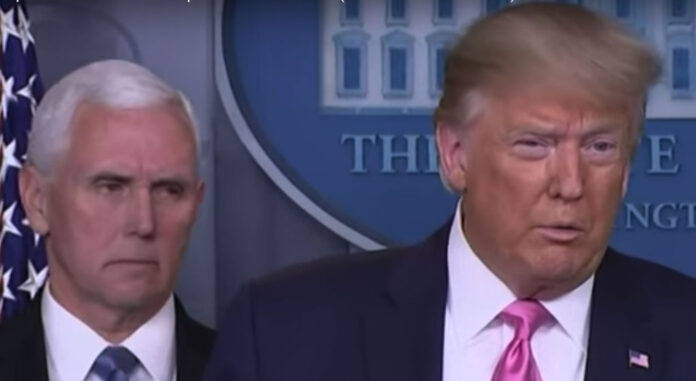 Here is some of what Donald Trump had to say Wednesday evening at a briefing intended to inform and reassure the American public about a public-health emergency:
This will end. This will end. You look at flu season. I said 26,000 people. I never heard of a number like that: 26,000 people, going up to 69,000 people, doctor, you told me before. 69,000 people die every year — from 20 to 69 — every year from the flu. Think of that. That's incredible. So far, the results of all of this that everybody is reading about — and part of the thing is, you want to keep it the way it is, you don't want to see panic, because there's no reason to be panicked about it — but when I mentioned the flu, I asked the various doctors, "Is this just like flu?" Because people die from the flu. And this is very unusual. And it is a little bit different, but in some ways it's easier and in some ways it's a little bit tougher, but we have it so well under control, I mean, we really have done a very good job. [Watch video.]
Before and after knowledgeable public-health officials had made clear that a further spread of the coronavirus in the U.S. is inevitable:
I don't think it's inevitable. It probably will. It possibly will. It could be at a very small level or it could be at a larger level. Whatever happens, we're totally prepared. We have the best people in the world. You see that from the study. We have the best prepared people, the best people in the world. Congress is willing to give us much more than we're even asking for. That's nice for a change. But we are totally ready, willing, and able to — it's a term that we use, it's "ready, willing, and able." It's going to be very well under control. Now, it may get bigger. It may get a little bigger. It may not get bigger at all. We'll see what happens. But regardless of what happens, we're totally prepared. [Watch video.]
On the stock market declines:
I think the financial markets are very upset when they look at the Democrat candidates standing on that stage make fools out of themselves, and they say, "If we ever have a president like this" — and there's always a possibility, it's an election, you know, who knows what happens? I think we're going to win, I think we're going to win by a lot — but when they look at statements made by the people standing behind those podiums, I think that has a huge effect.

Reporter: You don't you think it had to do with the coronavirus?

Well, I think it did, I think it did, but I think you can add quite a bit of selloff to what they're seeing. Because they're seeing the potential – you know, again, I think we're going to win. I feel very confident of it. We've done everything – and much more — than I said we were going to do. You look at what we've done. What we've done is incredible, with the tax cuts and regulation cuts, and rebuilding our military, taking care of our vets and getting them choice and accountability. All of the things we've done. Protecting our Second Amendment. I mean, they view that, the Second Amendment, they're going to destroy the Second Amendment. When people look at that, they say "this is not good." So you add that in. I really believe that's a factor. But, no, what we're talking about is the virus. That's what we're talking about. I do believe that's — I do believe in terms of CNBC and in terms of Fox Business, I do believe that's a factor, yeah. And I think after I win the election, I think the stock market is going to boom like it's never boomed before. Just like the last time I won the election. The day after the stock market went up like a rocket ship. [Watch video.]
On the Democrats, in between asking for their cooperation:
I think Speaker Pelosi is incompetent. She lost the Congress once. I think she's going to lose it again. She lifted my poll numbers up 10 points I never thought that I would see that so quickly and so easily. I'm leading everybody. We're doing great. I don't want to do it that way. It's almost unfair if you think about it. But I think she's incompetent.

I think she is not thinking about the country and instead of making a statement like that where I have been beating her routinely at everything instead of making a statement like that she should be saying we have to work together because we have a big problem potential only and may be it's going to be a very little problem. I hope that it's going to be a very little problem but we have to work together. Instead she wants to do that same thing with crying Chuck Schumer. [Watch video.]
On his devastating budget cuts to the Centers for Disease Control:
We can get money. And we can increase staff. We know all the good people. There's a question I asked the doctors before. Some of the people we cut, they haven't been used for many, many years. If we ever need them we can get them very quickly. And rather than spending the money — and I'm a business person — I don't like having thousands of people around when you don't need them. When we need them, we can get them back very quickly. For instance, we're bringing some people in tomorrow that are already in this great government that we have, and very specifically for this. We can build up very, very quickly, and we've already done that. I mean, we have a great staff, and using Mike, I'm doing that because he's in the administration, and he's very good at doing what he does and doing as it relates to this. [Watch video.]
On staying healthy:
View this the same as the flu. When somebody sneezes, I mean, I try and bail out as much as possible when there's sneezing. I had a man come up to me a week ago, I hadn't seen him in a long time, and I said, "How you doing?" He said, "Fine, fine," he hugged me, kissed me. I said, "Are you well?" He says "No." He said, "I have the worst fever and the worst flu." And he's hugging and kissing me. So I said, excuse me, I went out and started washing my hands. So you have to do that. I really think, doctor, you want to treat this like you treat the flu, right? [Watch video.]
Tell me this is normal.
Tell me this is unremarkable.
Tell me this is behavior by the President of the United States of United States of America at a critically important briefing about a potentially deadly pandemic that does not bear mentioning.
Wednesday's briefing was arguably the most abnormal moment yet in a profoundly abnormal presidency.
But top news organizations, rather than accurately representing Trump's alarming behavior, made it sound like nothing untoward happened at all.
They made it sound like some real news was made: That Trump put Vice President Mike Pence in charge of the government's response to the coronavirus; that the president urged calm.
But even the Pence "news" appears to be a sham, and a clusterfuck: In addition to being basically a fuck-you to the medical community — given Pence's proud defiance of scientific truths — it was apparently a last-minute decision based on political optics that blindsided Health and Human Services Secretary Alex Azar, who at the same time insisted that he was still in charge.
This one really wasn't hard. It was obvious to anyone listening to Trump's rambling, often incoherent, self-centered, stream-of-consciousness ad-libbing – much of it straight out of his political rallies — that:
Trump had no real understanding of what he was talking about.
He had no sense of what was required of him as president.
He sees this as being all about him.
There are only so many things that can come out of his head.
Smart people watching him — like MSNBC's Chris Hayes or the New Yorker's Susan Glasser — were left in no doubt.
He's almost quite literally saying nothing and manifestly knows nothing.

— Chris Hayes (@chrislhayes) February 27, 2020
Trump is actually using his insulting nickname for Crying Chuck Schumer at a press conference to REASSURE Americans he is handling a major international health emergency.

— Susan Glasser (@sbg1) February 27, 2020
Anyone with a modest amount of expertise in public health got it. On MSNBC, Ezekiel Emanuel, currently serving as a special advisor to the director general of the World Health Organization, explained:
I found most of what he said a little incoherent. And, you know, he's a guy that admitted that he's surprised that 25,000 to 69,000 people each year die of the flu. That just tells you how little he actually knows about public health and about the health of the American public, because every doctor knows that and lots of health policy experts know that. And he just told you, he just revealed how ignorant he is about the situation. We don't know how similar or dissimilar this is to the flu. We know one thing: It is actually more communicable than the flu. It passes between people very, very easily.
As for the coverage, while politicians aren't often the best media critics, I had to hand it to Sen. Brian Schatz (D-Hawaii) for getting this exactly right:
I feel like "Trump Assigns Pence Coronavirus Response" or "Trump Open to Larger Supplemental," while technically accurate, serve to mislead readers who didn't see the tour de force of insanity that was that press conference. Journalists: It's ok to describe things accurately.

— Brian Schatz (@brianschatz) February 27, 2020
And here's former top Obama staffer Ben Rhodes:
It's still amazing to see how a rambling, semi coherent and contradictory presser from Trump gets repackaged into headlines, stories and tv clips that turn him into a normal President.

— Ben Rhodes (@brhodes) February 27, 2020
The Coverage
But at the New York Times, Michael D. Shear, Noah Weiland and Katie Rogers engaged in something even worse than stenography: The cherrypicking of quotes that weren't incoherent, that in no way whatsoever indicated the true nature of the briefing. They led off:
President Trump named Vice President Mike Pence on Wednesday to coordinate the government's response to the coronavirus, even as he repeatedly played down the danger to the United States of a widespread domestic outbreak.
Nothing in that story told readers what they most needed to know.
Even in a sidebar on Trump's credibility, Annie Karni, Michael Crowley and Maggie Haberman simply called Trump's briefing "casual". Then they punted:
Mr. Trump could face a moment of reckoning. Maintaining a calm and orderly response during an epidemic, in which countless lives could be at stake, requires that the president be a reliable public messenger.
There was also a cutesy sidebar by Katie Rogers about Trump's self-declared germophobia.
Inexcusable.
Some news organizations, while treating the briefing like a normal one, at least called  attention to the obvious contradiction between Trump's account and that of the public-health officials who he allowed to speak briefly.
So, under the lame headline "Trump downplays risk, places Pence in charge of coronavirus outbreak response," Toluse Olorunnipa, Josh Dawsey and Yasmeen Abutaleb noted, six paragraphs in:
Trump's positive message was at odds with the statements by top members of his administration in recent days who have warned of an unpredictable virus that could spread into communities and upend Americans' daily lives.

The president was contradicted almost in real time by some of the government experts who flanked him as he stood in the White House press briefing room.

"We could be just one or two people over the next short period of time," Trump said of the virus's impact in the United States.

Minutes later, Health and Human Services Secretary Alex Azar and CDC Principal Deputy Director Anne Schuchat warned Americans to prepare for the number of cases to grow.

"We can expect to see more cases in the United States," Azar said.

"We do expect more cases," Schuchat said.
And much later in the story, the finally offered their first indication of what the briefing was really like:
But his news conference quickly devolved into campaign-style attacks on Democrats, predictions of a stock market rally and self-congratulatory assessments of his handling of the crisis.
They knew it was farcical – one of the authors indicated as much on Twitter — they just didn't think it was worth mentioning much.
An online-only sidebar by Aaron Blake got closer to reality:
Trump repeatedly sought to pat himself and his administration on the back, even as the scope and severity of the viral outbreak worldwide and in the United States is still coming into focus.
Blake also noted:
When he was asked why the stock market has plunged 2,000 points in recent days, Trump acknowledged part of the reason was coronavirus fears. But he also blamed the Federal Reserve, Boeing, General Motors, and he said he thought the markets were suddenly worried about one of his potential 2020 Democratic opponents beating him for reelection — despite that campaign having been going for more than a year.
And Amber Phillips waited until the absolute last paragraph of her Post news analysis to explain the obvious:
To deal with something as serious and life-threatening as a global virus, health officials say the White House needs to stay factual and apolitical. We haven't seen much of that from the president so far.
In the Los Angeles Times, Noah Bierman, Jennifer Haberkorn and Noam Levey offered their readers some context, by noting Trump's obvious motives:
Desperate to stanch anxieties on Wall Street and public fears that the White House is unprepared for a major coronavirus outbreak, President Trump on Wednesday named Vice President Mike Pence to coordinate the administration's response while asserting that "the risk to the American people remains very low."
It looks like a lot of news organizations wrote their headlines and settled on their ledes before the briefing was even over, or they would have recognized that Pence's appointment was actually just a sham.
After Trump left the podium, Azar jumped up to make this announcement:
If i could just clarify, I think you're not getting the point here of this. I'm still chairman of the task force. Mick Mulvaney has been serving, actually, an invaluable role for me as acting chief of staff, helping me to coordinate across the government with my colleagues and the whole of government approach. Having the vice president gives me the biggest stick one could have in the government on this whole of government approach.

Reporter: You don't feel like you're being replaced?

Not in the least. When this was mentioned to me, I was delighted that I get to have the vice president helping in this way. Delighted. Absolutely.
So there was really nothing normal about that briefing at all.