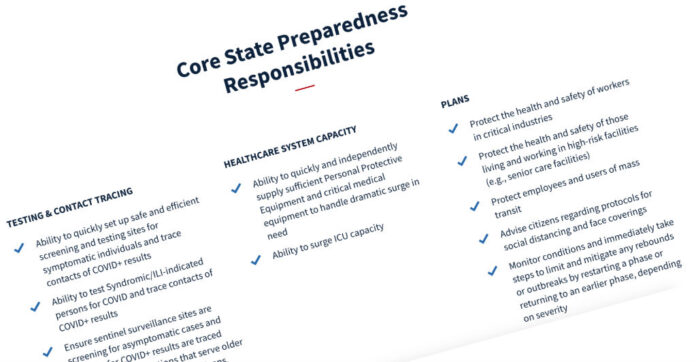 Among all of the knee-jerk habits of Washington political reporters, one of the most ingrained has got to be that when the president of the United States makes a big announcement, you write about what he said.
Donald Trump has taken advantage of that nearly involuntary reflex more times than I can count, repeatedly getting the nation's top political reporters to write about what he said even when what he was saying was a gigantic lie, or when the news was what he didn't say.
One of my greatest aspirations here at Press Watch has been to feature and magnify "best practices" in political reporting, not just despair over the worst. So it gives me great pleasure to call attention to the Washington Post article about Trump's Thursday evening news conference, where he released new "guidelines" for reopening America.
Ladies and gentlemen, a warm round of applause for Philip Rucker, Josh Dawsey and Yasmeen Abutaleb, who instead of simply repeating what Trump said, wrote about what was missing — namely any plan for the widespread national coronavirus testing that public health officials say is essential.
The headline online was "As testing outcry mounts, Trump cedes to states in announcing guidelines for slow reopening." It was even better in the print edition: "In Trump plan, governors take on burdens of testing, reopening."
And this wasn't some news analysis or sidebar, this was the main story. Here's how it started:
President Trump released federal guidelines Thursday night for a slow and staggered return to normal in places with minimal cases of the novel coronavirus, moving to try to resume economic activity even amid an outcry from political and health leaders about the nation's testing capacity.

Despite Trump's desire for a May 1 reopening, his plan does not contain a date for implementation and is a vague set of recommendations for a three-phased reopening of businesses, schools and other gathering places in jurisdictions that satisfy broad criteria on symptoms, cases and hospital loads.
Context, not stenography!
A few paragraphs later, a blunt explanation of what this was so obviously all about:
Trump's the-buck-stops-with-the-states posture is largely designed to shield himself from blame should there be new outbreaks after states reopen or for other problems, according to several current and former senior administration officials involved in the response who spoke on the condition of anonymity to discuss internal deliberations.
And from that point on, the article was mainly about the most important news of the day: Not Trump's blather, but the continued lack of federal testing efforts:
Governors have said one of the most important factors in making those determinations is testing data, but Trump's plan does not contain a national testing strategy. Senior administration officials said that although the federal government will try to facilitate access to tests, states and localities will be responsible for developing and administering their own testing programs.

Leaders across sectors, from elected officials to business executives to public-health experts, have amplified warnings this week that the nation is not ready to reopen in part because its testing system is woefully inadequate.
The Post reporters didn't get distracted by Trump's slides. As Michael Carome, director or Public Citizen's Health Research Group, put it in a statement:
Any serious proposal must include a robust, federally funded and coordinated plan for massively scaled-up testing, community tracing and the isolation and quarantine of all infected individuals and their potentially infected contacts. Until such a program is implemented, any plan for the widespread reopening of American businesses is fatally flawed and pure folly.
Want to read some actually serious, informed guidelines for phased reopenings? Read this new report from Johns Hopkins University's Center for Health Security. It's sort of a sequel to the wonderful, more general roadmap that I wrote about a few days ago.
If you think of where we are as Phase I, the report explains:
A shift to Phase II could be considered when the following 4 criteria have been met: (1) the number of new cases has declined for at least 14 days; (2) rapid diagnostic testing capacity is sufficient to test, at minimum, all people with COVID-19 symptoms, as well as close contacts and those in essential roles; (3) the healthcare system is able to safely care for all patients, including having appropriate personal protective equipment for healthcare workers; and (4) there is sufficient public health capacity to conduct contact tracing for all new cases and their close contacts, as described in our National Plan to Enable Comprehensive COVID-19 Case Finding and Contact Tracing in the US.
I wish I could say that other major news organizations did as well as the Post on this story, but sadly, no. (Although New York Times Ellen Barry's fabulous article on the contact-tracing program in Massachusetts certainly qualifies as "best practices" in that category.)
Barry's colleagues in the Times Washington bureau, Peter Baker and Michael D. Shear, predictably focused on the political ups and down – specifically on Trump's "reversal," only three days after saying that "the president of the United States calls the shots" and that he had the "total" authority to decide how and when the country would end widespread lockdowns.
Trump's smack-talk about "total" authority was self-evidently absurd ad-libbing and ego-maintenance on his part – a total distraction from his ongoing failure — but folks like Baker and Maggie Haberman fell for it hook, line and sinker.
Baker and Shear's article led with the fact that Trump "abandoned his threat to use what he had claimed was his absolute authority to impose his will on them."
Finally, six paragraphs in, they began offering some context on what was missing:
The guidelines envision proceeding without the comprehensive testing program that many public health experts have sought and opened the president to criticism that in his eagerness to start rebuilding a cratered economy, he may have encouraged some states to move too quickly and leave themselves exposed to a second wave of the coronavirus.
That's some understatement right there.
The closest Baker and Shear came to serious analysis was in noting that the guidelines "did not confront some difficult questions."
The Associated Press coverage was even weaker. Zeke Miller, Alan Suderman and Kevin Freking fell back on stenography. Consider their top, ugh:
President Donald Trump has given governors a road map for recovering from the economic pain of the coronavirus pandemic, laying out "a phased and deliberate approach" to restoring normal activity in places that have strong testing and are seeing a decrease in COVID-19 cases.

"We're starting our life again," Trump said during his daily press briefing. "We're starting rejuvenation of our economy again."
I don't even know where they got that part about "places that have strong testing."
The only real context came in a quote from a Republican governor!
West Virginia Gov. Jim Justice, a Trump ally, cautiously floated the idea of reopening parts of the state, but said testing capacity and contact tracing would need to be considerably ramped up before restrictions could be safely lifted.

"All would be forgotten very quickly if we moved into a stage quicker than we should, and then we got into a situation where we had people dying like flies," Justice told reporters.
The Los Angeles Times story by Chris Megerian, Noah Bierman and Eli Stokols gave Trump way too much credit, saying he had "bowed to public health experts who warned that moving too quickly — especially without the widespread testing that the government has struggled to deploy since the pandemic began — would jeopardize the fight against the coronavirus and could lead to new outbreaks."
There was a telling anecdote toward the end, though, where they wrote about a series of conference calls Trump made:
On one of the calls, business leaders warned the president that expanded testing was necessary before Americans could safely return to work, but the message was largely drowned out by Trump's determination to solicit praise from the participants, according to a person briefed on one of the calls.

"It was a joke. It was a complete farce," said the person. "It was not a serious conversation."
The Washington Post story, for all its awesomeness, still didn't get across many of the important points that I've been trying to make for a while now.
Most notably, Trump's guidelines say gradual reopening should primarily be based on the number of confirmed new cases going down.
But reopening safely isn't just about whether cases are going down, it's about whether an area is ready to keep it that way once things reopen – whether it is prepared to spot and stop an outbreak.
And when it comes to what's needed for that – which starts with testing, but also includes serious contact-tracing and isolation resources – Trump's guidelines vaguely dump the onus on the states, listing them as "State Preparedness Responsibilities."
But only the federal government has the logistics and resources necessary to do what needs to be done. And we need clear guidelines with metrics that counties and states can measure to judge their progress.
Trump's announcement Thursday was a sham, and his guidelines are a scam. It's long past time more news organizations figured out how not to get so easily played.
---
Read more of my writing about media coverage of Trump and the coronavirus. And please consider making a donation to keep Press Watch going.