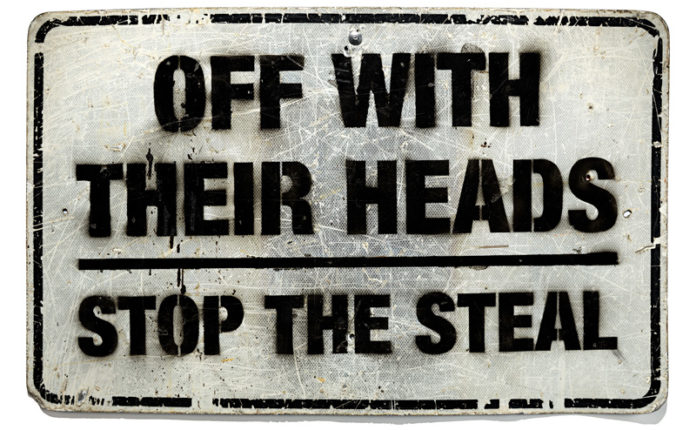 Any political journalist who has been paying attention already knows that Donald Trump lied about almost everything and engaged in a conspiracy to steal the 2020 election.
But a lot of Americans are still in the dark – some a little, some a lot, some completely. So the January 6 select committee is exactly right to presume that very few of them understand the full scope of the criminal conspiracy, or how all the parts fit together.
And there is inevitably yet more to come out.
I expressed my worries yesterday that the corporate media, having failed to sufficiently communicate the severity of this threat to our democracy, will react defensively and minimize the value of the hearings, rather than amplify the truth-telling.
But I have hopes, too. My most urgent hope is that journalists will not just relate the committee's findings, but help people understand why they should care.
Rather than framing the committee's proceedings as a political stunt, or as old news, journalists need to put each finding in its essential context.
For many of the findings, that context will be necessary in order for the public to fully  appreciate their significance. To that end, reporters should carefully study this extraordinary summary of what we know and what we don't know, by Ryan Goodman and Justin Hendrix of Just Security, in case some key questions get answered.
Here are several such questions, most of them cribbed from Just Security's summary:
Did Trump or his co-conspirators ever acknowledge that Trump lost the election? Did they know that Vice President Mike Pence did not have authority to overturn the election, but proceeded to argue that anyway? Jon Steinman, Protect Democracy communication director, said: "That would be enormous because that answers a lot of criminal intent questions for prosecutors. Anything about what he knew and when he knew it is going to be pretty instrumental here."
Were Trump or others personally aware of any threats or plans involving the Capitol? Did Trump or others communicate or coordinate with militia groups and supporters about anything involving the Capitol? Did Trump or others at the White House or the campaign privately communicate with extremists in far-right online communities? As Steinman said: "That would suggest additional criminal liability. They would potentially be directly connected to some of the bloodshed."
Why did law enforcement fail to react appropriately to ample intelligence suggesting a high potential for violence? I've argued at some length that racism was a huge factor (and possibly Trumpism), but were any law enforcement leaders encouraged or ordered to look the other way? That has been insufficiently explored.
What led to Chairman of the Joint Chiefs of Staff Mark Milley's concern that January 6 could be a "Reichstag moment" and acting Defense Secretary Chris Miller describing "fears that the President would invoke the Insurrection Act to politicize the military in an anti-democratic manner." What had they seen or heard? (Can you imagine?)
Did individuals involved in fundraising knowingly use false claims about the election? That could be evidence of wire fraud.
And did Trump try to have Pence kidnapped?
Answers to any of those questions, properly contextualized, should ring alarm bells.
I'm aware that it's hard for reporters to be alarmist on deadline; newsrooms overvalue unflappability, as I've said many times before. But precisely for that reason, reporters and editors should agree ahead of time what revelation would in fact qualify as bombshells. They should agree, ahead of times, on which red lines, upon new evidence that they were crossed, merit a screaming headline.
Furthermore, every finding should be put it the greater context of the conspiracy with a boilerplate paragraph that doesn't attribute known facts to "Democrats". Maybe something like this:
This finding is yet another key piece of evidence that the January 6 insurrection was the result of a far-reaching criminal conspiracy involving Trump and his top aides and supporters, who used the lie that the 2020 election had been stolen as the premise for their attempt to overturn the will of the people.
None of this is to suggest that there isn't plenty of evidence already.
A new Brookings Institution guide to the hearings and questions of criminality from Norman Eisen, Donald Ayer, Joshua Perry, Noah Bookbinder, and E. Danya Perry is another essential resource, laying out the overwhelming evidence of substantial criminal conduct already in the public record.
"Although we know that new evidence will be revealed during the course of the upcoming hearings," said Debra Perlin, policy director for the good-government organization Citizens for Responsibility and Ethics in Washington (CREW), "what we already know is more than enough to find that Donald Trump and his allies violated criminal law and attempted to undermine our democracy for which they should be prosecuted."