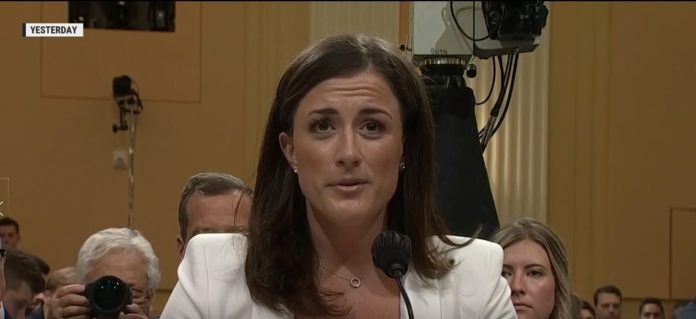 More than two days later, our top political reporters – with the notable exception of MSNBC's Chris Hayes — are still failing to grasp the real significance of what former White House aide Cassidy Hutchinson told the House Jan. 6 committee on Tuesday.
They correctly seized on her jaw-dropping testimony that Donald Trump knew the mob he had summoned on Jan. 6 was armed, aimed them at the Capitol, and wanted to go there himself.
But what they're still missing is that he didn't just plan to make an appearance and a speech. What Hutchinson clearly indicated is that Trump intended to storm into the House chamber at the head of the mob and demand that Congress declare him the winner.
That is dictatorship. That is fascism.
And that's the image we should all have in our minds when we think about Trump's intent. We should all be thinking about how that's what he wanted, and that's what he was pouting about when he was told he couldn't go. We should be thinking about how things would have worked out if he'd been allowed to.
Frankly, I didn't really get it either until I heard Chris Hayes on his MSNBC show on Wednesday night.
Here's video of his set-up.
And here's where he drops the boom:
This is what Hayes said:
Trump wanted to lead the armed mob into the Capitol as, essentially, the fascist point of the spear, with his security detail and the armed mob around him, and the Proud Boys and the Oath Keepers, to part the seas and breeze past the Metropolitan Police, who are getting their brains bashed in by the crowd, one imagines, and the Capitol Police, being concussed — and breeze in to sack the Capitol, to occupy the Capitol, to take it over, personally. "I am the leader now." This is what we are left to understand the president of the United States wanted to do — not some lawsuit, not some lies through some cut out, not getting some lawyer to run an errand. This is Trump himself.
If Trump's Secret Service detail had been just a bit more amenable, it might have worked out for him. Trump might have gotten his way, through a combination of enabling and terror. He almost certainly would have been able to create enough chaos to prevent Biden's certification.
Let's review the evidence.
Hutchinson's testimony indicated that as early as Jan 2, Trump attorney Rudy Giuliani and his chief of staff Mark Meadows, were discussing the possibility of Trump going directly into the House chamber, that Meadows was resigned to it, and that Giuliani was counting on it.
As Mr. Giuliani and I were walking to his vehicles that evening, he looked at me and said something to the effect of, "Cass, are you excited for the 6th? It's going to be a great day." I remember looking at him saying, "Rudy, could you explain what's happening on the 6th?" He had responded something to the effect of, "We're going to the Capitol. It's going to be great. The President's going to be there. He's going to look powerful. He's — he's going to be with the members. He's going to be with the Senators. Talk to the chief about it, talk to the chief about it. He knows about it."
"He's going to look powerful." Those words haunt me.
Hutchinson testified that Meadows essentially acknowledged there was such a plan, telling her "Things might get real, real bad on January 6th." And Hutchinson testified that she also knew of another conversation "about him going into the House Chamber."
Trump made no secret that he wanted to. He told everyone listening to him at the Ellipse:.
We're going to walk down to the Capitol, and we're going to cheer on our brave senators and congressmen and women, and we're probably not going to be cheering so much for some of them. Because you'll never take back our country with weakness. You have to show strength and you have to be strong. We have come to demand that Congress do the right thing and only count the electors who have been lawfully slated, lawfully slated….

We're going to the Capitol, and we're going to try and give… our Republicans — the weak ones because the strong ones don't need any of our help — we're going to try and give them the kind of pride and boldness that they need to take back our country. So let's walk down Pennsylvania Avenue.
When Trump's Secret Service detail wouldn't take him there, he exploded with fury. Then he went home and pouted.
"He wants to be alone right now;" Meadows told Hutchinson. "He doesn't want to do anything," Meadows told White House counsel Pat Cippolone. After the two man talked to Trump, Hutchinson heard Meadows tell Cippolone: "He thinks Mike deserves it. He doesn't think they're doing anything wrong."
Philadelphia Inquirer columnist Wil Bunch wrote a wonderful column Thursday afternoon, asking the key question:
What if the Secret Service and other aides had indeed kowtowed to "the (expletive deleted) president" and driven him to the Capitol? How might that have changed the course of the attempted and ultimately failed coup that was underway?
Bunch speculated that Trump "could have intensified the violence, prolonged it," and made it "unsafe for Vice President Mike Pence and Congress to resume Biden's certification."
But he stopped short of imaging Trump taking over the Capitol himself, which I think was a mistake. He did, however, point me to this tweet from Ruth Ben-Ghiat, the New York University historian who specializes in strongmen:
As I said last week, of course Trump was trying to get to the Capitol. A coup leader must be there to bless the new order birthed by violence and be acclaimed as savior by the crowd. https://t.co/mYZo12a6Gg

— Ruth Ben-Ghiat (@ruthbenghiat) June 28, 2022
Of the major-media writeups I read, the Washington Post's came closes to capturing the full threat Trump had posed – at least with its print-edition headline: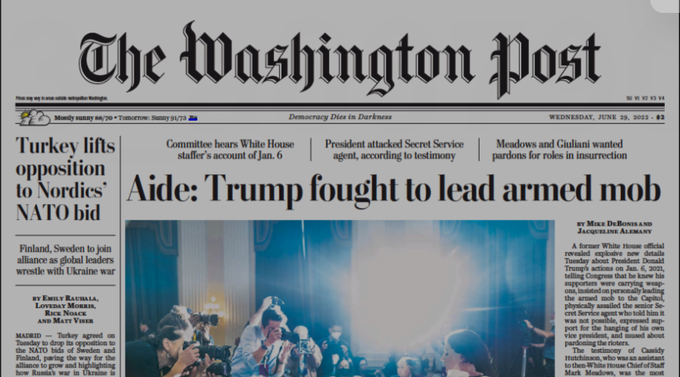 But the story itself, by Mike DeBonis and Jacqueline Alemany, didn't actually get to the key fact — that "some discussed having Trump enter the House chamber itself, where Congress was set to gather to count the electoral votes"  — until the 16th paragraph. Then they let it drop. And there's been little to no mention in the follow-ups.
So the most important, incendiary, terrifying, far-reaching part of what Cassidy Hutchinson told us appears unlikely to get the attention it deserves — until or unless Trump gets charged with sedition.