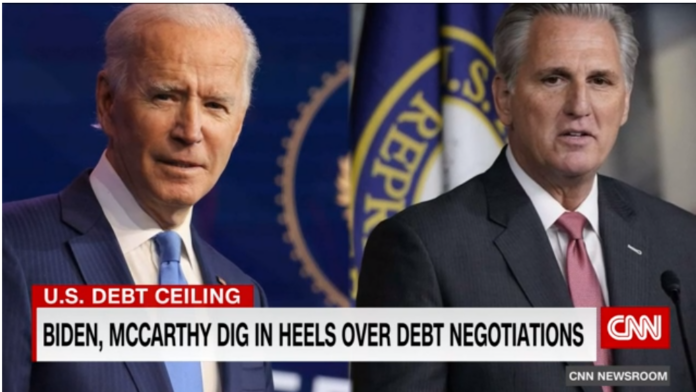 House Republicans are refusing to let the government keep paying its bills unless the Biden administration rolls back some of its signature achievements.
It's a demand that neither the Senate nor Biden will ever agree to.
Raising the debt limit is a procedural move that allows the Treasury to make good on existing commitments. It's not a budget bill.
But House Republicans appear to be ready to default on the debt if they don't get their way. Such a default would be catastrophic for the U.S and world economies, and could permanently damage the dollar's status as the de facto global currency.
Explaining it that way is simply good journalism.
But as usual, extremist Republicans have been enabled by media coverage that tries to split the difference, and treats what is essentially a hostage crisis created exclusively by one side as a normal, two-sided partisan squabble.
Indeed, our top political reporters now insist that the onus is on Biden to solve the problem.
Under the headline "Biden Faces His First Big Choice on Debt Limit," New York Times reporter Jim Tankersley writes today that the issue "has put President Biden on the defensive, forcing him to confront a series of potentially painful choices at a perilous economic moment."
Sure, Biden says he won't negotiate, but "business groups, fiscal hawks and some congressional Democrats" want him to make a deal. So Biden, Tankersley writes, "faces a cascading set of decisions as the nation, which has already bumped up against its $31.4 trillion debt limit, barrels toward default."
But the nation is not "barreling toward default," nor is it "careening," or even "drifting" there. It is being pushed there by Republicans.
Washington Post reporter Jeff Stein set off Internet pundits and the Post's own readers over the weekend with his article headlined "Biden is running out of time to avoid calamitous debt ceiling outcomes."
Talking Points Memo editor Josh Marshall tweeted: "Has there ever been a clearer example of the 'GOP has trained us to take their legislative terrorism as a given' mentality so clear in so much MSM reporting?"
Post commenters put it so well:
This is a vapid article that begins with a false premise. Biden is not the one who needs to be doing something right now. That's Congress. Also, none of Biden's options to resolve the problem unilaterally are "running out." They all are still available. Click bait that isn't even good click bait.
Also:
Yes, I am sick and tired of articles that seem to absolve the Republicans of their own idiocy and then blame the Democrats for not protecting us from the harm caused by Republicans.
Both Tankersley and Stein know better. They are both highly competent at times. What pressure are they under to produce such garbage? Which editors is this coming from? It's a mystery.
And it's not just them. The notion that this is a problem that both sides needed to solve has been endemic to corporate political reporting for months now.
The Associated Press has consistently been advocating for some sort of compromise — in its news stories. Josh Boak wrote that, "staring down a fast-approaching deadline," both sides "have to find some version of common ground."
Washington Post reporter Michael Scherer glibly predicted (in January!) that "Joe Biden and Kevin McCarthy, wary opponents, prepare to work together".
Biden and McCarthy haven't spoken about the debt ceiling once since then, with Biden continuing to insist on a clean debt-ceiling bill with no strings attached. Scherer is still arguing with me on Twitter that he was right.
A key distinction that gets conflated in much of the coverage is between raising the debt limit — a procedural issue — and passing a budget. Of course there will have to be negotiations about the next fiscal year's budget – eventually, once the fractious Republicans have come up with their own proposal, which could be a long time.
If just one major news organization were willing to buck the trend and tell its audience  what is really going on, without the false equivalence, that might be enough. The others might follow.
But it's not going to happen. Political reporters and editors love brinksmanship. They were fascinated by McCarthy's months-long attempt to whip his fractious caucus into some sort of agreement, which finally resulted this week in passage of a bill by a 217 to 215 vote. (With George Santos delivering the deciding vote, one might say.)
Journalists hailed it as a "major victory" for McCarthy. The AP's Kevin Freking quoted McCarthy after the vote, without a rebuttal, saying of Biden "He either has to negotiate now or we're the only ones that have raised the debt limit."
McCarthy as Victor — and Victim?
All along, reporters have been casting McCarthy as an embattled protagonist, rather than the antagonist. One throughline has been that McCarthy had no choice but to bow to the far-right members of his caucus.
Liz Goodwin and Marianna Sotomayor wrote in the Washington Post that McCarthy faced "the challenge of leading a vanishingly small House majority whose far-right members have threatened to default on the nation's debt obligations in order to enact steep federal spending cuts."
Under the headline "Staring Down a Debt Crisis, McCarthy Toils to Navigate G.O.P. Divisions," Jonathan Swan and Annie Karni wrote sympathetically about how McCarthy is surrounded by people he considers incompetent and "faces his most consequential test: reaching a deal with President Biden to avert a catastrophic default on the nation's debt as soon as this summer."
If holding the country hostage is a MAGA priority that McCarthy is only going along with grudgingly, then reporters should make that clear – and stop treating it like it's normal.
It's not only awful governance, it may also be unconstitutional, as Jamelle Bouie argued in his New York Times opinion column in January.  The 14th Amendment of the Constitution states that "The validity of the public debt of the United States, authorized by law, including debts incurred for payment of pensions and bounties for services in suppressing insurrection or rebellion, shall not be questioned."
*Crickets* from the news side, naturally.
Even the best stories about the GOP's position understate the extent of the fraud.
Tankersley wrote last week that the GOP bill "would only modestly change the nation's debt trajectory. It also carries a second big objective that has little to do with debt: undercutting President Biden's climate and clean energy agenda and increasing American production of fossil fuels."
The lede should have been more direct. Something like: "Much of what McCarthy is now demanding in return for not tanking the economy has nothing to do with debt, it's doing the bidding of the fossil fuel industry.
I'll end with what I wrote ten years ago(!) about the egregious press coverage of the then-ongoing shutdown caused by Republicans demanding that President Obama abandon Obamacare:
How can democracy self-correct if the public does not understand where the problem lies? And where will the pressure for change come from if journalists do not hold the responsible parties accountable?