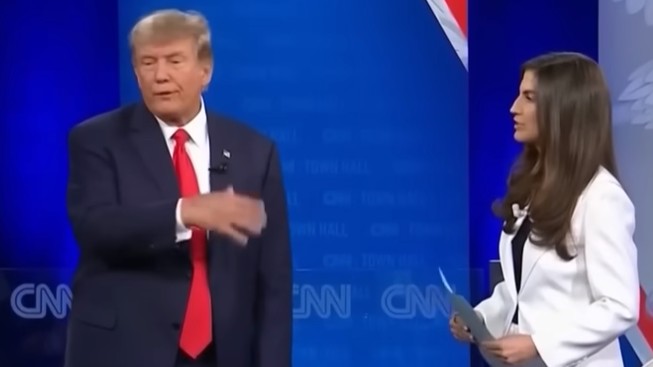 There is no evidence that CNN President Chris Licht is capable of learning anything. Nevertheless, his own journalists gave him a hell of a lesson during and after the totally predictable disaster that was the "town hall" with Donald Trump Wednesday night.
Licht has tried to make CNN neutral political territory, most notably by firing bold truth-tellers like Brian Stelter and John Harwood who minced no words when it came to calling out the tornado of lies spawned by Trump, Fox News, and the rest of the MAGA ecosystem.
Licht made it clear to the remaining CNN staffers that they should shove the contentious talk about Trump, in an attempt to appeal to more conservative voters; that they should not "take sides".
What CNN journalists made clear in turn, on Wednesday night, is that in the Trump era, standing up for the truth absolutely requires you to engage in behavior that looks very much to one side like you're taking the other. You simply cannot be a legitimate journalist and be neutral about Donald Trump.
Kaitlin Collins is no liberal – Tucker Carlson plucked her straight out of college to work at the Daily Caller — but Trump, blustering and blathering, cast her as a lefty patsy simply for trying to correct a tiny percentage of his flat-out lies. One MAGA publication called her a fool, rude, smug, arrogant, dismissive, boorish and ignorant.
Coming right out of the town hall, CNN's star anchors completely refused to appear neutral – because to do so would have violated every jot and tittle of their journalistic principles.
And they didn't only pan Trump, they expressed horror at the bizarre, ravening audience that Licht had pulled together.
Jake Tapper: Mr. Trump's first lie was told, just seconds into the night, with his false familiar claim that the 2020 election was, quote, a "rigged" election.

And the falsehoods kept coming, fast and furious, about the January 6 insurrection, about the threat to Vice President Pence, about Pence's ability, to overturn the election, about COVID, about the economy and more.

He called the Black law enforcement officer, a thug. He said people, here in Washington, D.C., at Chinatown, don't speak English. He attacked Kaitlan, as a nasty woman, because she was trying to get him to answer a question.

Perhaps most chillingly, the day after a nine-person jury, of his peers, in New York, found him liable, for sexual battery, defamation, and ordered him to pay, Writer, E. Jean Carroll, $5 million, he made fun of her account, of her sexual assault. And many in the audience laughed!

Anderson Cooper: And applauded!
A small legion of CNN staffers expressed outrage – anonymously – to media reporters.
Oliver Darcy, CNN's own media reporter, went public. He wrote in the newsletter he inherited from Stelter: "It's hard to see how America was served by the spectacle of lies that aired on CNN Wednesday evening."
This was particularly brave because he must have known that Licht would contradict him soon enough.
And indeed, Licht kvelled in a CNN call Thursday morning. Multiple reports quoted him as saying "I absolutely unequivocally believe America was served very well by what we did last night."
Let's be clear: Licht has to go. And his successor needs to learn the lesson he refused to learn.
What else should Licht have learned from Wednesday night's debacle?
The "town hall" format – which as I noted last week is notoriously easy for a con man to manipulate – is wholly inadequate.
You can't let this man speak live to your audience.
And you can't just have one person fact-checking him.
My friend Mark Harris, an astute critic of popular media, outlined some of the mistakes that should not be repeated in a Twitter thread Wednesday night:
1) Agreeing to an entirely partisan audience as a condition of the interview.

2) Deciding that someone could serve as moderator, host, interviewer and corrector of the record simultaneously.

3) Ignoring Trump's history of lying in your planning.

4) Deciding that it's your job to normalize a profoundly abnormal candidate via placing him a "normal" format.

5) Not having a separate set of on-set (literally) fact-checkers who could keep up with him in real time.

6) Not pivoting after yesterday and saying that because of the [E. Jean Carroll] verdict, the show would now have to begin with a 15-minute one-on-one interview with no live audience.

7) Ignoring the many people, including in your own organization, who made ALL these points in advance. This isn't "Who could have known?" People knew, and they said so.
Indeed, this could hardly have been a surprise.
Back in 2020, CNN's then-president Jeff Zucker acknowledged to Vice that during the 2016 election, "Donald Trump would say outrageous things, or say things that weren't true, and it just became accepted as, 'Oh, that's what he does.' Not calling that out more for what it was, and then holding the other side more accountable, that was probably a mistake."
You don't say.
As MSNBC host and accomplished debater Mehdi Hasan concluded, "CNN, with this ridiculous town hall format and an audience seemingly recruited 'from the Mar-a-Lago parking lot,' put its own anchor in a position to fail."
And in a Twitter thread Thursday, Hasan also lamented how the format apparently prevented CNN from teeing up video that would have refuted many of Trump's most ridiculous lies.
You cannot treat Trump like a normal politician, no matter how he is doing in the polls. You can't ignore him. But you can't let him play by his rules, either. The next president of CNN should learn from Licht's mistakes.