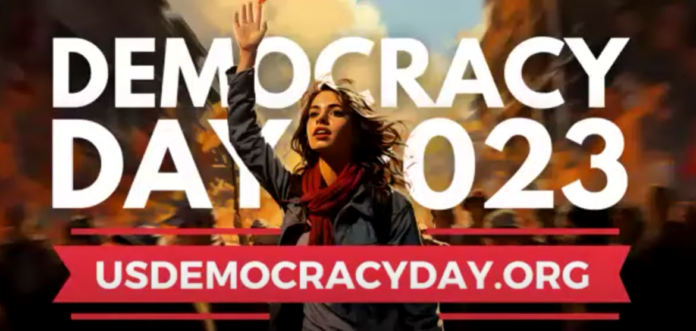 It's Democracy Day. And a very unhappy Democracy Day to you!
Democracy Day, organized by Montclair State University's Center for Cooperative Media in New Jersey, is intended to be an occasion for news organizations across the country to focus attention the crisis facing democracy here.
But not enough did, and not enough do.
This year, it even had a news peg, unfortunately: The Republican-controlled Wisconsin Senate voted Thursday to fire the state's top election official on account of conspiracy theories spread by election deniers – although it's not clear they can actually do that.
As the Associated Press reported, it's the latest of several anti-democratic acts taken by Wisconsin Republicans, who are also "threatening to impeach a newly elected Supreme Court justice before she's even heard a case" and "floating plans to overhaul the state's electoral maps before the high court can toss out current boundaries that favor the GOP."
Democracy Day was the perfect opportunity for Guardian media critic Margaret Sullivan to address some of  the ways the mainstream press is failing democracy. She brought receipts. In short:
News organizations have turned Biden's age (granted, a legitimate concern) into the equivalent of a scandal…

The evidence-free Biden impeachment efforts in the House of Representatives are presented to news consumers without sufficient context…

Trump continues to be covered mostly as an entertaining sideshow – his mugshot! His latest insults! – not a perilous threat to democracy.
Her proposed solution to the problem is basically for our newsroom leaders to get their heads out of their asses and reconsider their purpose in life.
Actually, she put it much more kindly:
Remember at all times what our core mission is: to communicate truthfully, keeping top of mind that we have a public service mission to inform the electorate and hold powerful people to account. If that's our north star, as it should be, every editorial judgment will reflect that.
Zachary Roth, the national democracy reporter for States Newsroom —  a fabulous network of nonprofit, public-service oriented  news organizations across the country – summarized some of the biggest current threats to U.S. democracy:
Politicians use rigged maps to entrench themselves in power, allowing them to ignore the will of voters. Hundreds of members of Congress, state lawmakers, and top state officials — including chief elections officials — deny the results of the last presidential contest. And a leading candidate for 2024 talks openly about abusing the power of the federal government to retaliate against his political opponents.
But, he explained, "much of the media is failing to convey the danger."
Even when the subject is given attention, it's often treated in the same way journalists cover fights over more traditional issues like taxes, health care, or education: Reporters quote both sides — those looking to restrict democracy, and those working to protect it — assess the political implications, and perhaps lament our growing "polarization".
As I've argued in the past, the dawn of "Democracy Teams" in several of our top newsrooms — which initially were cause for celebration — didn't really move the needle much. They were vasty outnumbered and outgunned, and mostly gutless.
On a Happier Note
Democracy Day isn't entirely a downer this year, however.
Top editors from SpotlightPA – a mission-driven nonprofit newsroom – set out their ambitious plans to cover Pennsylvania's 2023 general election.
For one, it will be accessible — not hidden behind paywalls – which is an increasingly common problem with elite-media political coverage.
And then there's this:
Spotlight PA will not publish "horse race" coverage — stories that focus on campaign stops, the latest attacks, or who is winning or losing in the polls. For one, other news outlets will provide that coverage, and we don't see a need to duplicate it….

Horse race coverage has also been shown to exacerbate the extreme partisanship we see today….

Instead, Spotlight PA will focus on what's at stake — the judicial records of the appellate court candidates and how their elections might change the trajectory of the state and affect your life. We'll also focus on how voters can vet other candidates further down the ballot.
Bravo!
All Democracy is Local
Some Democracy Day coverage surveyed  local landscapes.
Dan Kane, writing in the Raleigh News and Observer, noted that "as Democracy Day is observed, examples of officials making it harder for their constituents to know what they are doing continue to pile up in North Carolina." New laws:
Make campaign finance investigations secret
Block public access to data tracking police misconduct statewide
Prevent the release of pollution complaints against agricultural operations.
Make gun permits secret.
Make complaints about judges secret
And so on.
Mario Alejandro Ariza, a reporter for Floodlight News, an investigative nonprofit, wrote in the Orlando Sentinel that the largest power company in the U.S. used dark-money groups to make it harder to launch ballot initiatives – say, to restore abortion rights in the state.
Dana Hess of South Dakota Searchlight – a States Newsroom affiliates – wrote about the abuse of "executive session" by school board, city councils and the like to avoid public scrutiny.
Catherine Caruso wrote  in the Bucks County Beacon in Pennsylvania about how, "Amid ongoing attacks on democracy and the state's electoral process, groups like Common Cause Pennsylvania and the League of Women Voters of Pennsylvania are focused on expanding access to the ballot and ensuring that voters are well-informed and engaged in local elections."
Some Democracy Day pieces were personal. Leann Ray wrote in an opinion piece for West Virginia Watch – another States Newsroom affiliate:
Have you ever seen a photo of an opossum with their mouth wide open, and it looks like they're screaming?

That's me, inside my head, every time I hear someone say, "I don't follow politics. I hate politics."

Well, yes, most people hate politics. But you have to stay somewhat informed so you know how to vote.
Good Advice
Natalie Wallington of the Kansas City Star asked political science professor Bob Beatty of Washburn University in Topeka how voters should scrutinize campaign materials and came up with these fabulous rubricks:
Figure out who is paying for the advertisement
Check the citations on claims — if there are any
Look up which bills incumbents have sponsored
Find out more about the candidate's endorsers
Beware of charged language "nationalizing" local races
Turn to reputable local sources for unbiased information
And Clay Wirestone, opinion editor of the Kansas Reflector – also in the States Newsroom network – found something to celebrate: the fact that "All of a sudden, cracks have spread across the formerly invulnerable wall of U.S. gerontocracy."
Age matters, Wirestone explained:
The number of years ahead of you matters. Someone who came of age in the 1960s has formed a different mental model of the world than someone who came of age in the 1990s or 2000s. What you could expect from your family, education and career varies depends on those decades. The news you follow, the trends you worry about, the people you make friends with — all can shift depending on your age.

Climate change serves as the most obvious example. The worst effects of a warming world won't hit until our oldest politicians have headed off to filibuster in the great beyond.
The upshot?
As our country tries to engage more young people in civic life, perhaps they deserve the chance to vote for folks who look like them.
Jennifer Brandel, the CEO of Hearken – a fabulous company that encourages newsrooms and other organizations to listen more – offered some handy advice for reporters to take when political candidates demonize them and refuse to talk to them – something that happens increasingly often these days.
News organizations can highlight their absence by running blank space where their answers should be, for instance, or by labeling articles collating information about the candidates as "non-interviews."
My advice was:
If a major candidate isn't speaking to journalists and their campaign is demonizing the media, that's news and that calls for a big story: "[candidate] refuses to talk to us, attacks us instead" or "questions [candidate] refuses to answer." And I would not make these gotchas; I would make them questions that are flatly in the public's interest to know the answers."