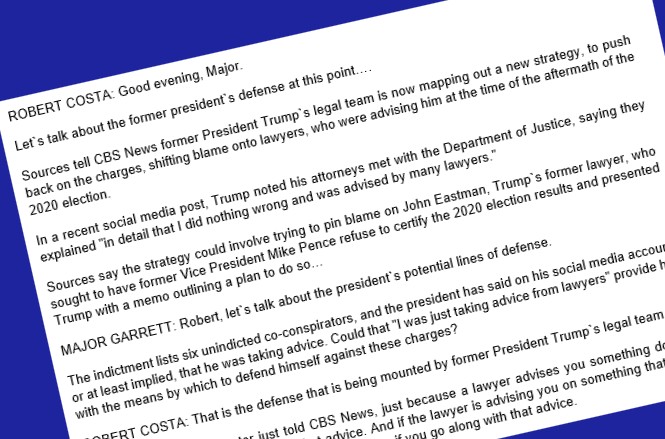 Low-information voters don't read the Washington Post or the New York Times. They don't watch CNN or MSNBC.
What some of them do watch, however, is the evening news on ABC, NBC and CBS, which together have a combined audience of about 20 million people every weeknight.
(According to the Pew Research Center, for instance, network news is the only news watched by large numbers of both Democrats and Republicans; taken together, the networks are the biggest source of news for those who say they don't follow political news at all.)
That gives the broadcast networks a special responsibility to fully explain to their viewers the real facts behind the political stories that social media, Fox, and other right-wing "news" sources work so assiduously to obscure and deny.
But they are badly neglecting that responsibility – some more than others.
I carefully observed network news coverage during the month of August, when Donald Trump was indicted by grand juries in Washington and Atlanta for conspiring to steal the 2020 election.
Both indictments are substantial, complex, and of the utmost national interest. By any reasonable standard, the networks were obliged to report in detail on the allegations and the facts in evidence – and not just on the first day, either.
CBS, the least-watched evening news broadcast, did by far the poorest job of explaining the facts as the news broke. ABC, the most-watched, did by far the most thorough reporting. NBC, like it is in the ratings, was somewhere in between.
But none of them sufficiently reminded their viewers after the first day's coverage of key information that the right-wing media was contemporaneously contesting.
Instead, what viewers got was mostly shallow coverage focusing on spectacles and often involving both-sides constructs.
As someone who does not normally watch the evening news, I was surprised to find that one big reason for the lack of depth in these broadcasts generally speaking is that they are incredibly repetitive. Often you hear the same summary phrases at the top of the hour, in the lead into a segment, and then in the segment itself. That leaves relatively little time to explain anything in depth.
So there's a huge – almost exponential — difference between a 5- or 7-minute segment, on the one hand, and a 12-minute one, on the other.
As the news of the federal indictment broke, ABC World News Tonight rose to the challenge with a relatively thorough 12-minute report. The others shrank from it. The worst was CBS, which focused its 5-minute report on Trump's empty, bombastic denials almost as much as it did on the elements of the indictment.
And none of the evening news shows adequately explained even once that these indictments represented long-awaited accountability for actions that largely took place in public view.
The CBS Evening News
On the evening of Tuesday, Aug. 1, Major Garrett – filling in for regular anchor Norah O'Donnell – started the CBS Evening News broadcast by announcing the federal indictment. But it didn't stop him from promoting six other stories, starting with a development in the Gilgo Beach killings case, before returning to the top story.
When he returned, Garrett and correspondent Robert Costa were both fixated on Trump's response as much as they were on what he was accused of. Garrett (formerly of Fox News) briefly described the indictment, explaining that:
Today`s charges are related to Trump`s attempts to challenge the result of an election he lost, plans for fake electors and his role in the January 6 attack on the U.S. Capitol.
Then he gave the Trump view:
Trump responded to today`s news on his social media account, calling Smith deranged and the indictment election interference.
Costa actually began his report from Trump's perspective:
Let`s talk about the former president`s defense at this point….

In a recent social media post, Trump noted his attorneys met with the Department of Justice, saying they explained "in detail that I did nothing wrong and was advised by many lawyers."

Sources say the strategy could involve trying to pin blame on John Eastman, Trump`s former lawyer, who sought to have former Vice President Mike Pence refuse to certify the 2020 election results and presented Trump with a memo outlining a plan to do so.

Trump has privately told allies that he believed John Eastman`s plan came from a conservative lawyer and that following Eastman`s counsel does not mean he conspired against the United States. But those familiar with the special counsel`s work say Trump`s conduct is being deeply investigated and that prosecutors are skeptical that Trump was just following advice.
That wasn't enough for Garrett who really wanted to drill down on Trump's options even further:
Garrett: Robert, let`s talk about the president`s potential lines of defense.

The indictment lists six unindicted co-conspirators, and the president has said on his social media account, or at least implied, that he was taking advice. Could that "I was just taking advice from lawyers" provide him with the means by which to defend himself against these charges?

Costa: That is the defense that is being mounted by former President Trump`s legal team.
To Costa's credit, he then noted:
But, as a federal prosecutor just told CBS News, just because a lawyer advises you something doesn`t necessarily mean you have to take that advice. And if the lawyer is advising you on something that could be breaking the law, you would be breaking the law if you go along with that advice.
Garrett then turned to fellow CBS News anchor John Dickerson for some much-needed context.
Dickerson: Well, it`s the most powerful person in the American system attacking the central pillar of the system, a free and fair election.

And he`s using the power to attack the system that he was given in order to protect the system. That`s what happened in the last election.
But Dickerson then spent more than half of his time talking about the electoral implications, noting that "according to the polls" it "looks like [Trump] will be rewarded," and taking a shot at one of Trump's critics, former vice president Mike Pence, for "doing terribly in the polls."
Five minutes total, with one brief, offhand mention of the fake elector scheme at the heart of the indictment — and then it was "We turn now to the case of the suspected Gilgo Beach serial killer."
By next evening, the coverage was all about the spectacle rather than the facts. O'Donnell was back in her chair:
We are now less than 24 hours away from an unprecedented moment in American history, where a former president returns here to the nation`s capital to make his first appearance on charges of going after the bedrock of American democracy, a peaceful transfer of power.
When she threw it to Costa, he began with – what else? – Trump's defense.
Costa:  Good evening, Norah.

Ahead of Trump`s arrival in Washington tomorrow, his lawyers are moving fast to build a defense. His former vice president is emerging as both a key witness and a key critic. And security officials are already on edge.
Subsequent nights continued to focus on the spectacle and Trump's defense rather than the actual charges, punctuated with Trump's empty bombast, like:
Trump: This is a persecution of a political opponent. This was never supposed to happen in America.
At one point, on the Aug. 5 broadcast, reporter Christina Ruffini even showed a clip from a Trump campaign ad depicting his prosecutors as "the FRAUD SQUAD."
Dickerson was again a voice of reason, briefly, on the Aug. 3 broadcast:
Between the indictment and the Jan. 6 report from the House, plus what President Trump has said about these events, we have never had a more detailed look at how a candidate would act in office.

And a lot of this detail comes from people under oath. So, voters who want to know whether this candidate will preserve, protect, and defend can look at the details here and find out, does he use his power wisely? Does he listen to aides when they give him advice? Does he act on impulse or by the obligations of the job?

They all have it all there to read to make their determination about whether he can handle four more years.
But to get those details, you had to go somewhere else besides the CBS Evening News.
(There was one exception — about halfway through the Aug. 9 broadcast, prompted by a New York Times story that morning. Costa reported on the memo authored by Trump lawyer Ken Chesebro outlining the plot to create false slates of Trump electors in battleground states where Trump lost.)
Two weeks after the federal indictment, a 41-count indictment was unsealed in Atlanta – 13 of the counts charging Trump for racketeering, conspiracy, and other offenses related to his attempt to steal Georgia's electoral votes. That was late Monday night, Aug. 14.
But on the 15th, O'Donnell was anchoring in Maui, where CBS had sent her for the optics.
So the indictment wasn't even the top story. It wasn't until halfway through the broadcast that they finally presented a very abbreviated, 2½-minute segment.
And then they let it drop, with barely a mention until Trump's Aug. 24 surrender at the Fulton County Jail.
Anchor Margaret Brennan led the Aug. 25 broadcast with the typical stew of evening-news fragment sentences and gerunds:
Tonight: the historic mug shot of a U.S. president. Donald Trump now using the picture to fund-raise for his presidential campaign, as the last of his co-defendants surrender in Georgia.
There was no explanation of the charges. Nevertheless, the broadcast aired the "defiant" Trump saying "We did nothing wrong. I did nothing wrong" and "What has taken place here is a travesty of justice."
ABC World News Tonight
ABC's David Muir split the top billing on World News Tonight's Aug. 1 broadcast between Trump's indictment and Gilgo Beach's "suspected serial killer in court and what the wife is now saying."
But he and the network acquitted themselves with a thorough 12-minute report that didn't just announce the indictment but explained it:
The 45-page indictment begins by saying the former president lost the 2020 election, knew he lost and then, for months, spread lies that there had been outcome determinative fraud in the election and that he had actually won it.

The indictment charges Trump with four counts. Conspiracy to defraud the US, conspiracy to obstruct an official proceeding, obstruction in an attempt to obstruct an official proceeding and conspiracy against rights. The indictment laying out a detailed timeline and state-by-state efforts to appoint illegal electors and influence local officials to change the outcome in their states. And it also lists six unnamed co-conspirators. The indictment alleges Trump attempted to enlist Vice President Mike Pence to obstruct the certification of the election results, and that the violent attack on the Capitol on January 6th was fueled by lies.
Unlike CBS, the focus at ABC was on the prosecution, not the defense. Pierre Thomas reported:
Prosecutors say Trump spread lies that there had been outcome determinative fraud in the election, and that he had actually won. These claims were false, and the defendant knew they were false. Still, they say, Trump worked to create an intense national atmosphere of mistrust and anger, and erode public faith in the administration of the election. The indictment going methodically, state-by-state, accusing Trump and his unnamed co-conspirators of creating fraudulent slates of electors in seven states, of trying to compel the justice department to sham election crime investigations, of pressuring Vice President Mike Pence to reject legitimate electoral votes on January 6th and, ultimately, sending his supporters to the capitol to obstruct the certification proceeding and exert pressure on the vice president.
Muir even did a dramatic reading from the first paragraph of the indictment.
Thomas averred that Trump "had every reason to understand that he lost."
There was a relatively meaty if short rehash of the charges in the Aug. 2 broadcast, along with a focus on Pence. But in the following days, the coverage turned to spectacle and polling.
Two weeks later, with Muir in New York rather than Maui, the Fulton County indictment was absolutely the top story on the Aug. 15 broadcast. Muir offered a solid overview:
A grand jury in Fulton County, Georgia, indicting Trump, accusing him of leading a, quote, "criminal enterprise" to overturn Joe Biden's victory in that state. Eighteen alleged co-conspirators also charged, including Rudy Giuliani and Mark Meadows, Trump's former chief of staff.

Prosecutors claim the conspiracy began on election night. Trump declaring, he won, even though he lost by more than 7 million votes and lost the Electoral College by losing several key battleground states. Part of the indictment, that famous phone call to Georgia's Republican secretary of state, saying, "Look, I just need you to find 11,780 votes." Former White House chief of staff Mark Meadows, who allegedly set up that call, as I said, among the indicted.
Reporter Aaron Katersky filed a long report that added some details, such as:
Trump's former lawyer Rudy Giuliani who, as a young prosecutor, pioneered using racketeering laws to bust the mob in New York, now charged with being part of a criminal enterprise himself. The indictment pointing to his vicious personal attacks on two poll workers, Ruby Freeman and Shaye Moss, falsely claiming they were stealing ballots.
And Muir wrapped up the segment by noting that state charges couldn't be pardoned at the federal level.
The NBC Nightly News
NBC's coverage of the two Trump indictments occupied the middle ground between ABC and CBS.
The first night's coverage was unremarkable, with a workmanlike segment clocking in at just over 7 minutes – not enough time to really go into the details. There was, for instance, only one mention of the fake electors, with no explanation.
A pet peeve of mine: In his intro, anchor Lester Holt fell into a common media trap, saying the federal grand jury had investigated Trump's "alleged attempts to overturn the results of the 2020 election." But there's nothing "alleged" about those attempts. The only "alleged" thing is that it was a crime.
The coverage the next evening included an appropriately skeptical analysis of Trump's defense by NBC legal analyst Chuck Rosenberg.
Rosenberg said that for Trump to rely on advice of counsel as a real defense, "he would have had to have been completely candid with his lawyer and relied on his lawyer's advice in good faith. Candor and good faith could prove to be stumbling blocks for Mr. Trump here."
Rosenberg also savaged a potential free-speech argument:
Well, speech designed to commit a crime or to commit a fraud is not speech that is protected by the First Amendment. You can't lie on your tax return or solicit money for your Ponzi scheme or instruct a colleague to destroy documents subpoenaed by a grand jury and claim that that is protected speech. It is not.
On the Aug. 3 broadcast, Holt led with Trump pleading not guilty in a federal courtroom in Washington, and at one point stopped to appreciate the gravity of the situation:
It was a moment surely seen through different lenses in this divided nation and yet a moment of undeniable consequence. A former American president standing before a federal judge to answer whether he sought to thwart the will of voters and block a bedrock of American democracy: the peaceful transfer of power.
And in a cavalcade of gerunds, he continued:
Afterward, Mr. Trump slamming the indictment as politically motivated, a persecution of a political opponent, the ex-president flying from his New Jersey home to Washington and a courtroom not far from the White House and the U.S. Capitol, where some of his supporters rioted on January 6th. Defiant and undeterred, Donald Trump pressing forward with his presidential campaign as he gathers political strength from what some consider a moment of political disgrace.
The Responsibility
Media critics like myself tend to focus on the most elite news organizations – in my case, urging them to call out misinformation and authoritarianism much more vigorously.
But there's an argument to be made that no matter how good a job the New York Times and the Washington Post do at truth-telling, they're simply not reaching the people who need to hear those truths the most.
They're preaching (listlessly, with euphemisms and lame false equivalence) to the choir, as it were.
By contrast, a goodly chunk of the viewers of the evening news are precisely the people who most desperately need unwavering access to the facts.
As a result, network executives should be keeping tabs on what the right-wing media is trying to obfuscate and should then go to extra lengths to provide clarity and facts on those issues.
Instead – and particularly in the case of CBS News – they seem to bend over backward to present both sides and offend neither, even when one side is talking nonsense.
And despite all the repetition within a given evening broadcast, they don't seem to want to repeat facts from one day to the next, even if those facts are essential to being an informed voter.
If I were running a network news show, I would spend a lot less time spouting gerunds and repeating myself and a lot more time running explainers: segments that invite potentially underinformed or misinformed viewers to better understand a complicated or contested topic.
And I would pack more fact-rich background into the treatment of ongoing stories, rather than assuming that everyone is accurately keeping track.
That could make a difference to our democracy.