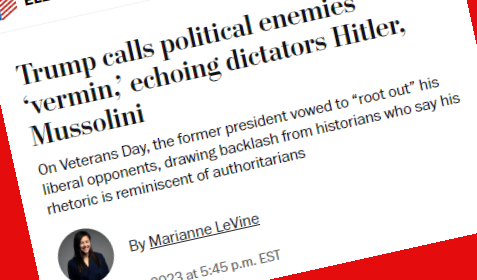 Saturday night was a low point in the elite media's coverage of Donald Trump.
The New York Times put a light-hearted headline on a news article about Trump's Veterans Day address in New Hampshire, in which he vowed to "root out" what he called "the radical left thugs that live like vermin within the confines of our country."
"Trump Takes Veterans Day Speech in a Very Different Direction" was the initial headline over the story by Michael Gold.
Gold acknowledged in his second paragraph that Trump's language was "incendiary and dehumanizing." But that, of course, should have been the lede – and should have been in the headline.
The Times soon changed its headline to "In Veterans Day Speech, Trump Promises to 'Root Out' the Left," but that wasn't much better.
A social-media furor quickly erupted. (Twitter, the platform now called X by some, is still good for something.)
Meanwhile, the Washington Post made no mention of the speech at all.
Until Sunday night, that is.
That's when the Post published a Marianne LeVine story under the blistering but appropriate headline: "Trump calls political enemies 'vermin,' echoing dictators Hitler, Mussolini".
Her lede:
Former president Donald Trump denigrated his domestic opponents and critics during a Veterans Day speech Saturday, calling those on the other side of the aisle "vermin" and suggesting that they pose a greater threat to the United States than countries such as Russia, China or North Korea. That language is drawing rebuke from historians, who compared it to that of authoritarian leaders.
Trump spokesman Steven Cheung only added fuel to the fire when he told The Post that those who argue that Trump's rhetoric echoes that of dictators will find "their entire existence will be crushed when President Trump returns to the White House."
Would the Post have written the story that way (or at all) were it not for the outcry about the Times's profound cowardice?
Probably not, I'd wager.
After all, it's hardly the first time Trump has trafficked in Nazi tropes or engaged in Hitler-like behavior.
Should the Post have put it on the front page, instead of the bottom of A2? Definitely.
But let's celebrate the moment nonetheless.
I sensed a tonal switch, which I hope and pray will be permanent, from covering Trump as a plausible future president to covering him as a dangerous demagogue.
Some senior editor made the call and I hope there's no looking back.
Maybe next time it will even be on the front page — everywhere.
Meet the Press?
The other excellent bit of news in pro-democracy journalism came from, of all places, NBC's "Meet the Press" on Sunday morning.
I've been arguing for a while now that when Trump says something outrageous, the news value is only partly in what he said — and mostly in the fact that despite what he said, Republican leaders and Republicans generally still aren't renouncing him.
After each outburst, I suggested that reporters ask Republican leaders and Trump supporters to say whether or not they agree with him and why.
And that's exactly what Kristin Welker, the new host of "Meet the Press", did with Ronna McDaniel, the chairwoman of the Republican Party.
I was happily shocked.
Welker: Are you comfortable with this language coming from the GOP frontrunner?

McDaniel: I am not going to comment on candidates and their campaign messaging. pic.twitter.com/EXjtvydhWl

— Acyn (@Acyn) November 12, 2023
Here's how it went:
KRISTEN WELKER: Let me just ask you big picture. Because former President Trump did raise eyebrows yesterday with his Veterans Day message. I'm just going to read you part of it. He says, quote, "In honor of our great veterans on Veterans Day, we pledge to you that we will root out the communists, Marxists, fascists, and radical left thugs that live like vermin within the confines of our country, lie, steal, and cheat on elections, and will do anything possible, whether legally or illegally, to destroy America." Are you comfortable with this language coming from the GOP front-runner?
McDaniel refused to answer the question. "I am not going to comment on candidates and their campaign messaging," she said.
It could have been a lot better. Trump didn't just "raise eyebrows" with his vermin line; Welker should have said it was redolent of Nazism. Welker let it drop instead of following up. It also shouldn't have been a yes/no question, but rather something like "how do you feel when he says something like this"?
But baby steps.
This ought to be standard operating procedure every time a reporter interviews a Republican.
Partial Credit for the Times
I should note that the New York Times also published on Sunday a remarkable article describing the extent of Trump's plan for an "extreme expansion of his first-term crackdown on immigration if he returns to power in 2025 — including preparing to round up undocumented people already in the United States on a vast scale and detain them in sprawling camps while they wait to be expelled."
The article by Charlie Savage, Maggie Haberman and Jonathan Swan headlined "Sweeping Raids, Giant Camps and Mass Deportations: Inside Trump's 2025 Immigration Plans" included chilling details about the inhumane policies Trump is advocating.
My beef with that story – and it is no small one – is that it failed to provide essential context. Just like the articles I rewrote last week, the Times flinched when it came to explaining the significance of Trump's plans. Calling them "an assault on immigration on a scale unseen in modern American history," is flatly insufficient.
Rounding up undocumented people – overwhelmingly Latino – and putting them in camps would be an act of extraordinary cruelty and racism, and a huge step toward authoritarian rule.
The media should make that abundantly clear.
And now maybe it will?
————
Did you hear me on "On the Media" over the weekend? I was talking about Trump coverage. Listen here!