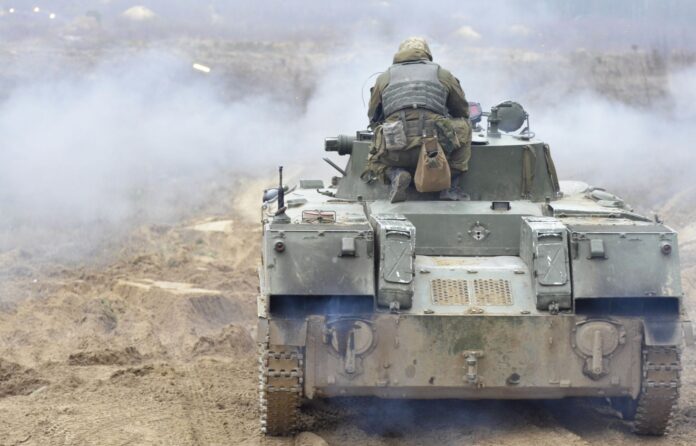 First published at Salon.com.
Sometimes in the rush of reporting the latest news, political journalists don't get around to writing the all-important explanatory paragraph. What does this really mean? Why is it so important? How does it change things?
The draft of testimony from U.S. Army Lt. Col. Alexander Vindman, a top Ukraine expert on the National Security Council, made public on Monday night is significant for a number of reasons.
1. It adds to the evidence, already overwhelming, that Donald Trump attempted to extort political favors from Ukraine President Volodymyr Zelensky. And Vindman seemed like an unassailable witness (at least to people operating in good faith). Most news organizations explained that quite well.
2. His statement directly contradicts the patently ludicrous testimony of Gordon Sondland, the Trump donor and hotel magnate turned U.S. ambassador to the European Union, who told House lawmakers earlier this month that no one from the NSC "ever expressed any concerns to me about our efforts." (The Associated Press caught that.)
But the really big deal is:
3. Vindman called attention to the national security implications of making support for Ukraine conditional on Trump's whims.
This was a missed opportunity for the political media to explain how significant Ukraine is geopolitically: How Russian troops literally invaded and annexed a chunk of the Ukraine in 2014; how since then it has been the site of a proxy war between the U.S. and Russia, in which 13,000 have already died; how Russian President Vladimir Putin has his eyes on taking over two more regions, Luhansk and Donetsk; and how dependent Ukraine is on U.S. support to fend off the Russians.
This, more than anything, is the key part of Vindman's testimony:
Since 2008, Russia has manifested an overtly aggressive foreign policy, leveraging military power and employing hybrid warfare to achieve its objectives of regional hegemony and global influence. Absent a deterrent to dissuade Russia from such aggression, there is an increased risk of further confrontations with the West. In this situation, a strong and independent Ukraine is critical to U.S. national security interests because Ukraine is a frontline state and a bulwark against Russian aggression.
But then all bets were off:
In the Spring of 2019, I became aware of outside influencers promoting a false narrative of Ukraine inconsistent with the consensus views of the interagency. This narrative was harmful to U.S. government policy. While my interagency colleagues and I were becoming increasingly optimistic on Ukraine's prospects, this alternative narrative undermined U.S. government efforts to expand cooperation with Ukraine.
That narrative included a bizarre conspiracy theory and unsubstantiated allegations against Democratic presidential candidate Joe Biden and his son, which, Vindman told Sondman, "had nothing to do with national security."
Some Important Background
Ukraine declared independence from the Soviet Union in 1991, but Russian influence persisted. In the Orange Revolution of 2004, opposition leader Viktor Yushchenko launched mass protests over rigged elections that had apparently benefited pro-Russian candidate Viktor Yanukovych. Yushchenko then was elected president.
But Yushchenko became wildly corrupt and was ousted by Yanukovych in 2010, who was then overthrown in a 2014 revolution (and/or coup, depending on your perspective) that was partially stage-managed by the Obama White House. That led Ukraine to become, as this primer from the Christian Science Monitor explains, "something like a client state of the U.S."
Putin invaded Crimea later that year. Russia has been subject to international sanctions since then, but at this point, as the conservative London magazine The Spectator puts it, Putin is winning Europe's only war
Here, from the BBC, is the latest update on that war, including Zelensky's recent "major concession, if not a capitulation" to Putin regarding Luhansk and Donetsk.
Danny Hakim, who first reported on Vindman's testimony in the New York Times on Monday night, wrote that Vindman "and other officials worked to keep the United States relationship with Ukraine on track."
At the Washington Post, Greg Jaffe explained why Vindman felt Trump was undermining national security (although he waited until his last paragraph to do so):
In his testimony Vindman, like others who have preceded him in the impeachment hearings, emphasizes the importance of Ukraine to the security of the United States. "A strong and independent Ukraine is critical to U.S. national security interests because Ukraine is a front-line state and bulwark against Russian aggression," he writes.
But sustaining and strengthening a bulwark against Russian expansion apparently had no value to Trump, if he even understood what was going on there. His personal and political impulses overwhelmed any interest in national security. That's the story. That's what will get him impeached.
The Counterattack
Trump himself continued to insist on Tuesday morning that the partial transcript of his conversation with Zelensky isn't a smoking gun:
Why are people that I never even heard of testifying about the call. Just READ THE CALL TRANSCRIPT AND THE IMPEACHMENT HOAX IS OVER! Ukrain said NO PRESSURE. https://t.co/VYmW8bYcgS

— Donald J. Trump (@realDonaldTrump) October 29, 2019
Yet as the exalted Washington Post reporter Dan Balz declared a week ago: "It is no longer a question of whether this happened."
Vindman makes a particularly credible witness, due to his straight-arrow national service background and history as a grateful refugee whose family fled Ukraine when he was 3.
So Fox News went right after him. Justin Baragona of the Daily Beast described Fox News host Laura Ingraham and irredeemably evil "torture memo" author John Yoo batting around the idea that Vindman was possibly a Ukrainian spy.
The dual-loyalty/espionage smears began about an hour after his prepared remarks became public. https://t.co/N8pVO7LIhe

— Brian Beutler (@brianbeutler) October 29, 2019
MSNBC's Brian Williams described the Fox News attack as "an opening salvo in character assassination." On CNN Tuesday morning, anchor John Berman called the allegation "disgusting."
But then Berman brought on CNN's latest paid Trump defender, Sean Duffy, who echoed Ingraham's innuendo:
Sean Duffy on CNN on Army Lt. Col. Vindman: "It seems very clear that he is incredibly concerned about Ukrainian defense. I don't know that he's concerned about American policy … we all have an affinity to our homeland where we came from … he has an affinity for the Ukraine." pic.twitter.com/dlsYlTnCwR

— Aaron Rupar (@atrupar) October 29, 2019
Berman aggressively challenged Duffy – but it was CNN's choice to hire Duffy in the first place.
Ingraham, Yoo, Duffy, and Kilmeade are all on air questioning a decorated veteran's loyalty based on nothing but a wild desperation to save this president, and Fox and CNN are happily providing them the platform to do it.

— southpaw (@nycsouthpaw) October 29, 2019
Not with a whimper, just a bang
The Daily Beast's Asawin Suebsaeng and Erin Banco tried to find someone to explain where Trump got the idea that ISIS leader Abu Bakr al-Baghdadi had died "whimpering." (See Monday's column.)  They found no one.
Over at NBC.com, Courtney Kube and Carol E. Lee wrote that Trump both made stuff up and revealed sensitive intelligence:
The al-Baghdadi raid is the most high-profile exhibit of a reality U.S. officials have had to contend with since Trump took office: a president with a background in show business who relishes delivering a compelling narrative and deals daily with the kind of covert, life-and-death sets of facts that inspire movie scripts.
CNN fact-checker extraordinaire Daniel Dale, who has previously documented Trump's habit of saying that people cried when they didn't, predicted what will happen next:
Trump starts the cycle by lying about trivial stuff, but some of his supporters end up seeing the cycle primarily as evidence of media pettiness/bias, fueled by such accusations from his professional allies. So the lie is ends up a "win" with his base even if widely debunked.

— Daniel Dale (@ddale8) October 29, 2019