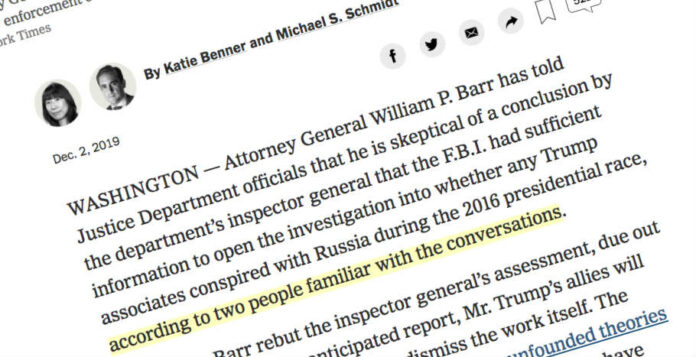 The Washington Post "broke" the story Monday night: Attorney General William Barr has apparently been grumbling about the DOJ inspector general's finding that the FBI, contrary to Trumpian gospel, did indeed have enough information to legitimately launch its investigation into the Trump campaign.
Devlin Barrett and Karoun Demirjian wrote that they'd heard this from "people familiar with the matter" and they explained that it "could be the prelude to a major fissure within federal law enforcement" and "will probably generate more partisan battles."
It could also be the beginning of a PR campaign to sow doubts and spin an alternative narrative when the IG's report actually comes out next week.
There's a reason why reporters aren't supposed to grant anonymity to sources willy-nilly – and there are rules stating that sources should be identified in as transparent a way as possible, so readers can judge their motives.
Was this story worth the grant of anonymity? It was a "scoop", but it was more likely a plant than a leak. With the nature of the sources entirely opaque, it's entirely reasonable to think of it as a trial balloon. The Post grabbed it.
And this all presumes that it matters what Barr thinks of the IG report. The man has about zero credibility at this point outside the Trump bubble.
Do you need a sign that the reporters were grateful for their gift from DOJ? Consider this outrageous section reviewing previous criticisms of Barr, which suffers from timidity, false equivalence, and amnesia:
After receiving the Mueller report, Barr released a short letter summing up its main points, including that there was insufficient evidence to accuse any Trump associates of conspiring with the Russians. Barr also said Mueller had made no determination about whether Trump had sought to obstruct the investigation, but Barr and his then deputy concluded he had not.

When the full report was released, Democrats protested that Barr had improperly skewed the findings to be more favorable to Trump.

Barr has dismissed such criticism, and charged it is Democrats who are abusing legal procedures and standards in their quest to drive Trump out of the White House.
In reality, the letter was wildly misleading and led to days of credulous and deceptive press coverage. Attributing the critique to "Democrats" was a ridiculous way to marginalize the truth. And the authors' choice to add in response the unrebutted paraphrasing of a Barr conspiracy theory struck me as source maintenance that ill served readers.
By contrast, Washington Post media writer Margaret Sullivan was exactly right to warn reporters covering the impeachment hearings not to succumb to "Barr-Letter Syndrome." As she accurately recalled:
It was a little over six months ago that Attorney General William P. Barr took it upon himself to summarize the Mueller report in a misleading letter that the news media — pretty much en masse — represented as an accurate summation of the 448-page report about Russian interference in the 2016 election and its aftermath.

You might remember some headlines and news reports that said, essentially, "no collusion, no obstruction."

Of course, that's not what the report said, as Mueller himself later tried to set straight.
The Times Story Was So Much Worse
Chasing another news organization's "scoop" is no fun and inevitably rushed, so I'd ordinarily feel bad for Katie Benner and Michael S. Schmidt, the New York Times reporters who apparently got that assignment.
But they ended up not only compounding all the Post's bad judgement but throwing in a number of unsupported presumptions that gave Barr's alleged doubts even more undeserved significance.
Consider this irresponsible speculation about how the Trump camp would seize on Barr's possible future statements:
Should Mr. Barr rebut the inspector general's assessment, due out next week in a highly anticipated report, Mr. Trump's allies will most likely use that pushback to dismiss the work itself.
And far from pointing out Barr's lack of stature, the reporters granted him some he doesn't have:
Mr. Barr's doubts are significant because they could be perceived as the nation's top law enforcement officer siding with Mr. Trump, who has long cast doubt on the legitimacy of the Russia investigation, over law enforcement officials.
There's a throwaway acknowledgment that Barr's critics "have accused him of siding with the president over the rule of law in his handling of the special counsel's findings and in a recent speech in which he defended Mr. Trump's use of executive authority."
Wow that is some understatement.
And then the reporters speculated dangerously about the effect that Barr's alleged doubts could have on the controversial investigation he launched as an apparent favor to Trump:
Mr. Barr's skepticism could place more pressure on John H. Durham — the federal prosecutor who is conducting a separate criminal inquiry into the roots of the Russia investigation — to find evidence backing Mr. Barr's position.
Why chase the story at all? Was it a matter of pride? Of clicks? And why not take a different approach than the Post did?
Rather than base an entire story on what "two people familiar with the conversations" told the Times, why not lead with DOJ's official expression of confidence in the IG report?
"The inspector general's investigation is a credit to the Department of Justice," the department's spokeswoman, Kerri Kupec, said in a statement on Monday night.
Or why not write about the one bit of actually disturbing news the Times reporters uncovered? They reported towards the bottom of their story that "senior Justice Department officials have also discussed putting in place procedures and guidelines that would force the [FBI] to get Justice Department approval before opening an investigation on someone like the president, one person who has been briefed on those conversations said."
If that happens, that would actually matter.