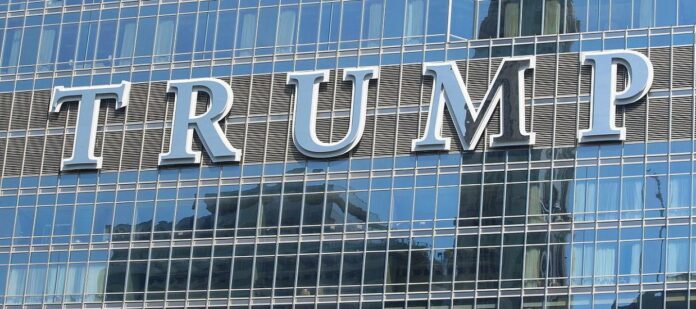 Most political reporters don't like to talk about what they've failed to do.
But three Washington Post reporters assigned to cover Donald Trump's business interests acknowledged Tuesday that his business remains "a blind spot at the heart of his presidency."
And they vowed to try to fix that.
In an article published on the Post website Tuesday morning, David A. Fahrenthold, Joshua Partlow and Jonathan O'Connell published a list of five unanswered questions they intend to explore in the coming months, with the ultimate goal of determining whether Trump is "exposed to problems — such as struggling properties or debts coming due — that would put private pressure on a man with immense public power."
The questions, each of which they discuss briefly:
How will the company adapt now that it has let go of many undocumented immigrant workers?
How is Trump's business doing financially?
Will selling be a new strategy?
How is Trump changing his tactics when it comes to promoting or distancing himself from his business?
Who will try to influence the Trump administration by patronizing Trump's businesses?
Each of these questions build on previous reporting – for instance, the Post determined last year that Trump's business was built with the help of the labor of undocumented immigrants, and that some of his Washington D.C. hotel's "most valued customers also wanted something from the Trump administration."
But the extent to which Trump is using his presidency to enrich himself is still a seriously under-explored issue. And the extent to which Trump's business may be suffering – partly on account of the negative associations with his brand – is almost entirely unexplored, and even more likely to influence his behavior as president.
Fahrenthold won a 2017 Pulitzer Prize for exposing many of Trump's philanthropic claims over the years as exaggerations and lies, and for disclosing a tape of Trump's crude bragging about groping women. He continues to cover the Trump family and its business interests.
Partlow is on the Post's political enterprise and investigations team, has written extensively about the Trump Organization's reliance on undocumented workers.
O'Connell covers economic development with a focus on commercial real estate and the Trump Organization.
What's particularly refreshing and bold about their piece on Tuesday is that encourages readers both to root for their success — and hold them accountable.
It's also a great way to earn credibility, says Joy Mayer, director of Trusting News, a program to help newsrooms demonstrate credibility and actively earn their audiences' trust.
"Journalists spend a lot of time planning coverage and asking questions, and the people they aim to serve (their audience members) are not typically aware of process until a story is published," Mayer wrote in an email. "There's huge benefit to pulling back the curtain and offering a window into your agenda-setting conversations. Doing so shows your audience that you are asking big questions. It helps them connect the dots between individual chapters in much larger stories. It shows them what they can look forward to, making them feel more connected to the coverage long-term."
Mayer felt that one thing was missing from the Post story: "An invitation to readers to send in their own questions or topics for consideration." Although she noted that doing so "requires a commitment to read and consider submissions, so it's not a strategy to be undertaken if that's not possible."
I'd like to see this sort of agenda-announcing become much more common in political journalism – and in journalism, generally.
It ties into something I've believed as long as I've been doing online journalism, which is that beat reporters are the most valuable assets in our newsrooms — and that a lot more of that value could be shared with readers if reporters wrote more about what they don't know and what they'd like to know.
For instance, I'd love to see reporters write beat notes for their editors, and make them public. I'd like them to face up to what they don't know, identify what the public deserves to know and why it's being kept secret, vow to find out, ask readers for help, and allow themselves to be held accountable.
And in addition to posting and frequently updating FAQs (lists of Frequently Asked Questions) I've long felt reporters should post FUQs (Frequently Unanswered Questions) on their beats.
Fahrenthold, who has been almost uniquely successful in engaging readers in his investigative work, discussed his approach in a speech at Washington and Lee University in 2017:
"My viewers and readers are — I imagine them sort of like people who have been fired out of a tornado," he said of the state of journalism today. "They don't know which way is up. They've been following 15 things at once. They don't know what's happening and what the most important things is. So to me one of the most important things is, in addition to just reporting the facts, to give people a way to follow the news, to give them a thread to follow, so they don't just feel lost in a daily tornado of news."
Tuesday's Post story is a great example of "best practices" for political journalism – and I'm adding it to my collection.