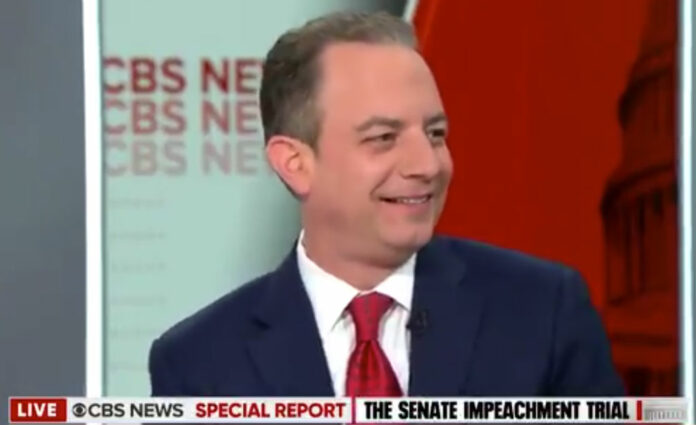 Social media is reacting with widespread and bitter disappointment at CBS News for hiring former Trump aide Reince Priebus as a political analyst.
The bad news for CBS: The corporate-media position that it's so important to have pro-Trump voices on air that it's worth paying known liars to lie is really ticking off some viewers.
The good news for CBS: The brand is still being held to a high standard, despite how much it has been publicly eclipsed by the cable networks. A lot of people still have warm feelings about the network of Walter Cronkite.
I first heard the news from CNN's Brian Stelter:
Reince Priebus has joined CBS News as a political analyst. "Looking forward to a fun year together," he said on today's special report pic.twitter.com/HZbLb0BuPd

— Brian Stelter (@brianstelter) January 22, 2020
As it happens, Priebus had already appeared alongside Norah O'Donnell, Margaret Brennan and John Dickerson during CBS impeachment coverage – and CBS News had tweeted it out.
.@Reince Priebus, former WH chief of staff: "None of the evidence presented is compelling, overwhelming or bipartisan, as Nancy Pelosi promised. None of the evidence directly ties to the president." https://t.co/RS5691zEwu pic.twitter.com/I7dbccBmle

— CBS Evening News (@CBSEveningNews) January 22, 2020
CBS also sent out a press release announcing that Priebus "will contribute analysis of political coverage on all CBS News broadcasts and platforms."
I've written about this sort of problem before, in the context of CNN. By hosting people like Kellyanne Conway and hiring (if only briefly) Trump defender after Trump defender to sit on their pundit panels, CNN "continues to prefer cheap thrills over digging into what's at stake with serious reporting, insight and expertise," I wrote.
My view is that putting known liars on the payroll is a betrayal of news values, and a surrender to entertainment values. Contrived conflict is a remarkably inexpensive way to entertain viewers but a lousy way to do news.
After I saw Stelter's tweet, I decided to look for a good example of Priebus flat-out lying to someone on TV, and was actually surprised to find a perfect one – right on CBS itself.
CBS just hired Reince Priebus as a political analyst. In his first CBS interview in November, Priebus flat-out lied to @NorahODonnell and @MajorCBS –so baldly that CBS corrected him. Awesome hire. https://t.co/sCQAu88AtS pic.twitter.com/yuNvduNpyt

— Dan Froomkin/PressWatchers.org (@froomkin) January 22, 2020
It struck a nerve on Twitter, because it showed that CBS knew exactly what they were getting into.
As for Priebus, he really seems to rub some people the wrong way. (Read the replies to my tweet!)
A former Republican National Committee chairman, Priebus "failed to impose order on a chaos-racked West Wing" and "was pushed out… after a stormy six-month tenure," as the New York Times put it. Trump announced his ouster in a tweet.
Molly Ball wrote for the Atlantic in 2017:
His story, in a way, is the story of the Republican Party itself: His initial wariness of Trump gave way to capitulation and then enabling. He swallowed his private qualms for the sake of the team, until his turn to be the victim of Trump's pageant of dominance finally came—publicly disgraced, dismissed in a tweet.
Priebus is "president and chief strategist" for Michael Best & Friedrich LLP, and chairs the board of advisors for Michael Best Strategies LLC, the firm's government relations and public affairs group. As Eric Hanoki wrote for Media Matters:
Priebus now holds senior roles at affiliated lobbying and legal firms; his law firm is connected to the Trump Organization and has collected over $280,000 in fees from GOP campaign groups such as the Republican National Committee.
Priebus has also "joined a speaker's bureau to cash in on his traumatic, short-lived tenure," wrote Tina Nguyen in Vanity Fair.
More recently, Priebus (appearing on Fox) became the leading advocate of Trump's "so what?" defense.
Reince Priebus: "Sometimes the best defense is the 'so-what' defense which is, if everything the Democrats said is true it's still not impeachable. If everything Lev Parnas said is true, it's still not impeachable" pic.twitter.com/hBMT3YvjqG

— Andrew Lawrence (@ndrew_lawrence) January 17, 2020
Poynter Institute media writer Tom Jones wrote on Thursday:
CBS News is falling into the same hole that many networks do when they hire someone all in the name of fairness and credibility and end up getting someone who is neither fair nor credible. And that leaves an ugly stain on the coverage.
What's next? CBS should either sever ties with Priebus or – a distant second-best – explain as transparently as possible why they chose to hire him, and under what circumstances. It would make for an interesting debate.