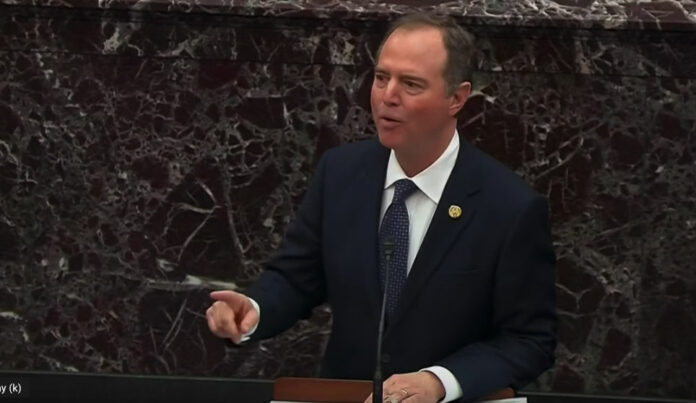 Wednesday's opening presentation by the House Democratic impeachment managers may not have contained a lot of news as defined by discreet bits of information we didn't know before. But it was newsworthy in the grandest sense.
In fact, journalists were in a particularly good position to appreciate how effectively Adam Schiff and his team presented an absolutely massive amount of evidence supporting a consistent, tragic and sordid story about a president who violated any reasonable standard of conduct by attempting to use congressionally appropriated funds to extort a political favor from a desperate ally.
The New York Times reflected the historical nature of the moment. In a story headlined on the web site Democrats Present Scathing Case for Convicting Trump, Michael D. Shear's started things off this way:
The House Democratic impeachment managers began formal arguments in the Senate trial on Wednesday, presenting a meticulous and scathing case for convicting President Trump and removing him from office on charges of abuse of power and obstruction of Congress.

Representative Adam B. Schiff of California, the lead House prosecutor, took the lectern in the chamber as senators sat silently preparing to weigh Mr. Trump's fate. Speaking in an even, measured manner, he accused the president of a corrupt scheme to pressure Ukraine for help "to cheat" in the 2020 presidential election.

Invoking the nation's founders and their fears that a self-interested leader might subvert democracy for his own personal gain, Mr. Schiff argued that the president's conduct was precisely what the framers of the Constitution had in mind when they devised the remedy of impeachment, one he said was "as powerful as the evil it was meant to combat."
But the Washington Post whiffed in the most miserable way.
This is a news organization whose internationally-recognized brand is that it holds presidents accountable. (Lord knows I did my best to reinforce that brand when I was there.)
But now its leaders are apparently so locked into both-siderism and so addicted to conflict that they can't even recognize that when one side is making history, the other side's smack is not equally important.
In a story headlined As Democrats unfold their case, GOP unloads in the print edition, Seung Min Kim, Elise Viebeck and Colby Itkowitz focused on the trivial "news" of the day, which to their mind was mostly the Republican smack. It was embarrassing. Here's the top of that story:
House Democrats charged with prosecuting the impeachment case against President Trump on Wednesday scaled back their fiery language following a rare scolding from Chief Justice John G. Roberts Jr., as they began laying out their case for Trump's removal from office for pressuring Ukraine to help him win reelection.

But as Democrats softened their tone if not their message, Trump and his fellow Republicans dialed up their partisan rhetoric, with GOP senators largely ignoring Roberts's admonition and leveling scathing attacks against the trial's prosecutors.

Democrats also appeared to shut down talk of a deal to secure testimony from former national security adviser John Bolton by offering to trade testimony from the son of former vice president Joe Biden, who was the focus of Trump's alleged pressure campaign on Ukraine. Biden himself said he would refuse such an arrangement.

The Republican barrage was led by Trump himself, who in Davos, Switzerland, called the top House managers "sleazebags" while denouncing his impeachment as a "hoax" and "disgrace" to his presidency.

"I watched the lies from Adam Schiff. He'll stand, he'll look at a microphone, and he'll talk like he's so aggrieved," Trump said at a news conference from the World Economic Forum in Davos, referring to the House Intelligence Committee chairman leading the prosecution.
Maybe the Post covered the substance of the day was in another story? Hardly. One sidebar was about how the impeachment managers have stepped into the spotlight, with a chance to boost their political careers. Online, the five-minute version of the day was glib and limp.
Coverage was disappointing elsewhere, too. The Los Angeles Times took a similar approach to the Post's, focusing on how "contentious" the trial has been; the Associated Press story was dutiful and heavy on process; USA Today called it a rehash.
And this matters beyond today, because what the Democrats did on Wednesday set a marker that journalists need to remember next week, when Trump's lawyers begin their defense.
The Democratic presentation sets the stage for how to judge the rebuttal. What precisely will Trump's lawyers deny? What evidence will they contradict? What evidence — if any — will they present?
I have to wonder just how much exculpatory evidence there really is. The only thing that comes to mind offhand is Ukrainian President Zelensky's statements that he didn't feel pressured  – statements that were, of course, made under the most obvious public duress imaginable.
To those journalists complaining about the lack of suspense, here's a question to create dramatic tension: How on earth with Trump's team refute all this?
So even if they didn't report in real time about the gigantic mounds of persuasive evidence of Trump's guilt that the Democrats presented on Wednesday, it's essential that our top political journalists keep that in mind as they do their jobs next week.
We heard a story Wednesday about how this corruption played out step by step by step. If Trump's team responds simply with invective and shrugs, our newsroom leaders need to make it crystal clear to their readers and viewers that there aren't two equal sides to this story.