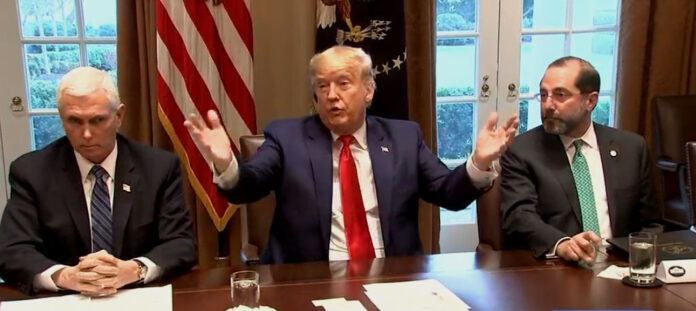 Donald Trump's profound cluelessness about what's involved in fighting a pandemic was on such blatant display Monday that it should have been one of the top stories of the day.
In a hour-long meeting with the heads of major pharmaceutical companies, Trump reacted with such ignorance and naivete to absurdly optimistic sales pitches about treatments and vaccines that his own health officials had to risk their careers by repeatedly correcting him publicly.
But not to worry, it was like he didn't even hear them.
The best coverage I saw was from the STAT health-news website, where their Washington correspondent Lev Facher wrote:
After years of maintaining that drug companies charge "ripoff" prices, Trump appeared floored by the executives' progress reports. He alternatingly praised CEOs and egged them on to lay out shorter and shorter timelines for bringing a vaccine to market. Trump, throughout the meeting, appeared so blown away by the drug companies' claims that his deputies struggled to rein in his expectations.

"Like I've been telling you, Mr. President," Tony Fauci, the director of the National Institute on Allergy and Infectious Disease, interjected at one point. "A year to a year and a half," he said, referring to the amount of time it will likely take to deploy an effective vaccine to large populations…

The executives largely told the president what he wanted to hear — that for both therapies and vaccines, companies could enter early testing within months, with the aim of reaching the market in time for peak season in a year's time…

[E]ven as Fauci and health secretary Alex Azar interrupted to caution the president that most therapies and vaccines were nowhere near ready, the president leaned into the executives' positive spin.
For instance, the executives frequently failed to differentiate "between projections for bringing drugs to late-stage trials and bringing them to market," Facher noted. And Trump couldn't have been more gullible or less informed:
Trump, who last week acknowledged he was "shocked" to learn the flu typically kills over 30,000 Americans annually, also displayed a surprising lack of scientific savvy. At one point, he asked the executives and federal researchers whether they believed existing flu vaccines could prove effective in halting COVID-19's spread.

"You take a solid flu vaccine," Trump asked, "you don't think that would have an impact, or much of an impact, on corona?"

Fauci's understated reply came quickly: "Probably not."
Washington Post political blogger Aaron Blake offered a devastating analysis on Tuesday morning:
As a private citizen and presidential candidate, Donald Trump was a proponent of vaccine skepticism — ignoring the scientific consensus on stuff like how vaccines don't cause autism. As president, he is now surrounded by experts on the subject, including on Monday when he held a coronavirus roundtable with his task force and the heads of several pharmaceutical companies.

Yet despite the increasingly scary situation involving the disease and preparations having been underway for weeks, he still appears rather clueless on the subject.

At the event Monday, Trump peppered the drug companies with questions that were some variant of "How fast can you get it done?" But despite this having been a focal point in recent weeks, he still didn't seem to process the fact that producing a vaccine means conducting months and months of trials before it can be deployed.
Trump held a short interview with Charlotte's WCCB News later on Monday, in which he engaged in self-congratulation and said his takeaway from the meeting with the pharma execs was that — I kid you not — they are going to work miracles:
Well I think we're doing a really good job. We're getting very high marks on it. We're getting high poll numbers, believe it or not, for the way we've been handling it. Today, I met with a big pharmaceutical companies back in DC, and they're really looking to do something. Pfizer, and Johnson and Johnson, and all, and they have a, sort of a thing that's going to work miracles. I think you're going to see some really tremendous things happening… I think we're going to see a very good result out of it. It's rough, it's always rough, but you're going to see a very good result. We've handled it well….

Well, the companies are the best in the world, and they're working on it, and they think they're pretty close to having it. They have to test it, and by the time you've tested it, it's next season, and maybe a little bit beyond next season, but it'll be soon. But they have other things that they can help, I guess I'd use the word cure it, fix it, help people out so they get, if they have it, they get better, and they're looking to do that, and I think they're going to be able to do it. Great companies. We spent a lot of time with them today. So, the vaccine will come shortly thereafter.
At his political rally in Charlotte, he said to cheers:
We had a great meeting today with a lot of the great companies and they're going to have vaccines. I think relatively soon. And they're going to have something that makes you better and that's going to actually take place, we think, even sooner. So it's a lot of good things are happening.
Calvin Woodward conducted a solid fact-check of those statements for the Associated Press:
That's misleading, given the far more cautious pronouncements of federal public-health officials and scientists. They say a vaccine is probably more than a year away at best and there are no special treatments for COVID-19. The notion of a quick "cure" is not in their vocabulary as they focus on trying to help people avoid getting the disease in the first place.

What's actually happening: Studies have begun in COVID-19 patients in parts of the world to see if certain antiviral medications could help treat the infection.

Today, there are no proven treatments. In China, scientists have been testing a combination of HIV drugs against the new coronavirus, as well as an experimental drug named remdesivir that was in development to fight Ebola. In the U.S., the University of Nebraska Medical Center also began testing remdesivir, in some Americans who were found to have COVID-19 after being evacuated from a cruise ship in Japan.

It's not known how soon such studies will answer whether any of the drugs help. And many patients recover without needing any treatment. The biggest concern is how to help the fraction who become severely ill.
There's solid coverage, but you have to look for it
So that was solid, unflinching work by Facher, Blake and Woodward. Facher, however, was writing for a niche publication, and Blake and Woodward were writing the equivalent of sidebars.
The message – that Trump obviously does not understand what he is talking about and engages in magical thinking – should be front-and-center in our top news stories.
But no such luck.
Sadly, Peter Baker, writing up the meeting for the New York Times, offered readers not even the tiniest suggestion of what a freak show it was:
President Trump pressed the pharmaceutical industry on Monday to "accelerate the development" of vaccines and therapies to contain the outbreak of the coronavirus and hinted at further travel restrictions to keep people already infected out of the United States.

At a meeting with drug company chief executives at the White House, Mr. Trump said his administration would work to reduce regulatory obstacles for the creation of treatments but was cautioned that even on a fast track, it could take a year to 18 months to come up with a vaccine for wide distribution.
Jeff Mason also wrote it like everything was normal, for Reuters:
At a meeting with industry executives at the White House, President Donald Trump exhorted the companies to collaborate to speed the process of getting a vaccine and therapeutics to victims of the virus.
Mason at least gave some indication of the tensions between Trump, who "took upbeat comments from some of the company leaders to mean that it could be ready to deploy within months" and Fauci, who "stepped in and urged those at the table to correct the president's impression."
Verbatim Trump is the scariest Trump
I led my post about reporters covering up Trump's incoherence last week with some extended quotes from his press conference, because cherry-picked sound bites make him sound way too normal.
So I recommend reading – or at least skimming — the transcript of Monday's meeting.
Toward the end, a reporter asked Trump If he accepts "that this will take longer probably than you would like?"
THE PRESIDENT:  I don't know what the time will be.  I don't think they know what the time will be.  I've heard very quick numbers — a matter of months — and I've heard pretty much a year would be an outside number.  So I think that's not a bad — that's not a bad range.  But if you're talking about three to four months, in a couple of cases, and a year in other cases — wouldn't you say, Doctor, would that be about right?

Q    Is it realistic to think, really, that a vaccine could be ready in three or four months?

THE PRESIDENT:  Well, you have the greatest companies in the world sitting around the table.  I mean, Johnson & Johnson and Pfizer and all of the companies — Gilead — you have all of these great companies and that's what they're saying.  So I think that —

FAUCI:  Would you — would you make sure you get the President the information that a vaccine that you make and start testing in a year is not a vaccine that's deployable.  So he's asking the question, "When is it going to be deployable?"  And that is going to be, at the earliest, a year to a year and a half, no matter how fast you go.
The Faucian bargain
Fauci, meanwhile, is clearly walking a tightrope. In an interview Friday – that for some reason wasn't published until Tuesday – Fauci told Politico's Sarah Owermohle the following:
"You should never destroy your own credibility. And you don't want to go to war with a president."
"But you got to walk the fine balance of making sure you continue to tell the truth."
"It's really, really tough because you have to be honest with the American public and you don't want to scare the hell out of them."
"And then other times, in attempts to calm people down, [leaders] have had people be complacent about it."
His overall conclusion about coronavirus?
It could be really, really bad. I don't think it's gonna be, because I think we'd be able to do the kind of mitigation. It could be mild. I don't think it's going to be that mild either. It's really going to depend on how we mobilize.
How we mobilize, ultimately, seems to depend on an ignoramus. And the press needs to make that clearer.