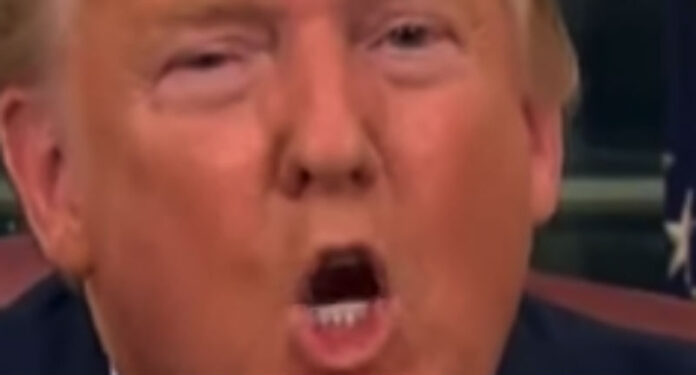 Donald Trump's massively botched announcement about restricting travel from Europe was an obvious and desperate ploy to cast himself as the protector of the United States and generate some rare positive headlines.
And some in the corporate media fell for it — initially.
Philip Rucker and Anne Gearan of the Washington Post wrote that Trump "announced a drastic emergency measure Wednesday night designed to save American lives from the pandemic."
The announcement garnered Trump the banner headline in the New York Times, with Peter Baker writing:
In a prime-time address from the Oval Office, Mr. Trump outlined a series of measures intended to tackle the virus and its economic impact as he sought to reassure Americans that he was taking the crisis seriously after previously playing down the scope of the outbreak.
PR stunt
Signs were clear all day that Trump was building up to an empty PR stunt.
"I'll be making some decisions. I've already made some decisions actually today, but I'll be making some other ones that are very important," Trump said during a Wednesday afternoon meeting with bankers.
Hours before the speech, New York Times reporter Maggie Haberman tweeted that it was being written by Trump's know-nothing hack son-in-law Jared Kushner and his lead xenophobe Stephen Miller — which is really all you needed to know.
Trump clearly telegraphed that he was building to what he hoped would be his bullhorn moment, rallying the nation — and the media — behind him as George W. Bush did on a pile of rubble after 9/11, tweeting:
The Media should view this as a time of unity and strength. We have a common enemy, actually, an enemy of the World, the CoronaVirus. We must beat it as quickly and safely as possible. There is nothing more important to me than the life & safety of the United States!

— Donald J. Trump (@realDonaldTrump) March 11, 2020
The speech itself, which opened with him tooting "our nation's unprecedented response," quickly descended into lies and blaming others:
And taking early intense action, we have seen dramatically fewer cases of the virus in the United States than are now present in Europe.
(Only because no one can get tested.)
The European Union failed to take the same precautions and restrict travel from China and other hotspots. As a result, a large number of new clusters in the United States were seeded by travelers from Europe.
(That appears to be dead wrong.)
After consulting with our top government health professionals, I have decided to take several strong but necessary actions to protect the health and wellbeing of all Americans.
(What top government health professionals? Reporters should demand that the White House name one.)
To keep new cases from entering our shores, we will be suspending all travel from Europe to the United States for the next 30 days. The new rules will go into effect Friday at midnight. These restrictions will be adjusted subject to conditions on the ground. There will be exemptions for Americans who have undergone appropriate screenings, and these prohibitions will not only apply to the tremendous amount of trade and cargo, but various other things as we get approval. Anything coming from Europe to the United States is what we are discussing. These restrictions will also not apply to the United Kingdom.
(This was apparently Trump misreading the teleprompter and then ad-libbing, because it was all wrong.)
Within minutes after the speech was over, it became clear that not only had Trump misstated his own plan, but that the entire idea — particularly the U.K. exemption — makes no sense whatsoever. He apparently had not consulted with European allies or affected industries.
The pushback
Further down in their story, Rucker and Gearan started providing some useful context:
Since the first known case of coronavirus was reported in the United States on Jan. 21, Trump has addressed the matter with sporadic and slapdash comments. It took until Wednesday evening for the president to deliver a formal set of prepared remarks, with guidance for the public about what to do and assurance that the federal government is fully engaged in seeking to mitigate the crisis.

For the 11 minutes he addressed the nation Wednesday, Trump turned in a laboring performance — one intended to project calm competence that instead seemed to reveal uncertainty. Seated behind the Resolute Desk, the president struggled at moments to read the words on the teleprompter. He clasped his hands and twiddled his thumbs. He spoke with a curious affect, his voice sounding raspy and his delivery lacking the passion typically evident in his speeches.
After giving Trump credit for "dramatic action," Jill Colvin, Zeke Miller, Lisa Mascaro and Andrew Taylor of the Associated Press quickly got to the gist of it:
After days of playing down the coronavirus threat, he blamed Europe for not acting quickly enough to address the "foreign virus" and claimed that U.S. clusters were "seeded" by European travelers.
Annie Karni and Maggie Haberman dutifully noted that Trump sat "somberly" behind his big desk and finally "acknowledged the seriousness of the coronavirus." But they also called attention to his use of "accusatory language and a defensive tone that were vintage Trump."
And way, way down in their article, they made a key point:
For his part, Mr. Trump has continually made false statements and misinformed the public about the severity of a virus that has left at least 37 people in the United States dead. Instead, his focus has been on repeating how well he thinks the response has gone rather than focusing on the response itself.
That should be the second or third paragraph of pretty much any story about Trump and the virus.
And here's a way to decode what reporters actually think. When they say "struggled" they mean "flailed" (they just can't bring themselves to say so). Karni and Haberman wrote:
Throughout his 10-minute, uncharacteristically formal address, Mr. Trump struggled to find a middle ground between acknowledging the deepening crisis and diminishing its threat to the country's future.
Noah Bierman of the Los Angeles Times admirably put Trump's comments in context right from the start:
Hours after the nation's leading infectious disease expert testified to Congress that the worst impact of the new coronavirus is yet to come, President Trump framed the threat as a containable problem involving outsiders, with American clusters "seeded by travelers from Europe."
Watch this dive
As Thursday progressed, the coverage got more and more savage.
CNN's Stephen Collinson, under the headline "Trump address sparks chaos as coronavirus crisis deepens," wrote:
President Donald Trump set out to steady a rattled nation and a diving economy in a solemn Oval Office address, but instead sowed more confusion and doubts that he is up to handling the fast-worsening coronavirus crisis.
The Reuters headline was: "Trump's shallow virus plan blows floor out of markets."
Trump's speech "was filled with misleading and wrong information," Glenn Kessler and Salvador Rizzo wrote for the Washington Post.
Ashley Parker, Josh Dawsey and Yasmeen Abutaleb called attention to Trump's perverse fixation on numbers and "how the statistics reflect on his presidency and hopes for reelection."
Christina Boyle and Laura King wrote for the Los Angeles Times:
European leaders expressed indignation and bafflement Thursday over sweeping travel restrictions announced by President Trump, saying the measures would do little to contain the spread of the coronavirus.
Jonathan Lemire's article for the Associated Press was justifiably brutal:
The escalating coronavirus crisis is presenting President Donald Trump with a challenge for which he appears ill-equipped, his favorite political tactics ineffective and his reelection chances in jeopardy.

A rare crisis battering the White House that is not of the president's own making, the spreading coronavirus has panicked global financial markets and alarmed Americans, many of whom have turned to the Oval Office for guidance and reassurances. But what they have found is a president struggling for a solution, unable to settle Wall Street and proving particularly vulnerable to a threat that is out of his control.
Even Peter Baker revisited his earlier anodyne writeup of the speech, concluding in a classic Timesian construction (improbable past subjunctive? Help me out, grammarians!) that
If President Trump's goals in his prime-time address to the nation were to reassure Americans and unify the country in the face of the coronavirus pandemic, it seems safe to say that he achieved neither as of Thursday morning.
Baker also wrote:
While he read the words from the teleprompter about unity, he made no effort to reach out to the opposition to forge a common front. While he talked about travel limits, he misstated what they will be, forcing his administration to clarify them afterward. While he talked about measures to prop up the economy, he did not discuss the troubles with the availability of testing kits or express understanding of the changes in everyday life affecting so many Americans.
And the Washington Post's Dan Balz, arguably the town's most reliable source of conventional press-corps wisdom, wrote:
In times of national crisis, people look to the president for direction, reassurance and confidence. President Trump's Oval Office speech on Wednesday night provided precisely the opposite.

From the misstatements to the omissions to his labored demeanor, the president sent a message that shook financial markets, disrupted relations with European allies, confused his many viewers and undermined the most precious commodity of any president, his credibility.
Is the political coverage finally getting real?
I've argued that we should tune Trump out in favor of people who, unlike him, actually know what they're talking about.
I've argued that political reporters have no business anywhere near the coronavirus story. They are credulous, deferential and uninformed about the crucial issues. They just react to whatever the president says, as if this were a normal president in a normal time.
But there's one thing that political reporters do jump all over, and that's a president's perceived weakness.
Press coverage of George H.W. Bush suddenly went negative after he threw up in the lap of the Japanese prime minister in January 1992. Political reporters treated George W. Bush like a hero until he sat idly by as New Orleans filled with water in 2005, and then he was a goat.
Since day one, it's been clear to many of us that Trump was not entitled to the deference the press corps reflexively grants the president of the United States. I still say: Don't listen to elite political reporters when it comes to anything related to the coronavirus. But I do wonder whether this will turn out to be the moment that they decided Trump became unpresidential.