Donald Trump is embarking on a major PR campaign intended to convince people it's safe to resume their normal lives, Zeke Miller of the Associated Press reports. And his controversial but still widely broadcast afternoon briefings are set to play a central role.
Trump aides are hoping "to use the daily White House briefings to inundate Americans with facts and figures on testing and therapeutics, blanketing television with graphics of flattening and declining curves and statistics on the number of testing kits available," Miller writes.
Miller quotes Kevin Hassett, a senior White House adviser, saying: "We need to create the kind of confidence in America that makes it so that everybody goes back to work."
But Miller's AP colleagues Julie Pace and Hannah Fingerhut are simultaneously reporting on new poll results finding that "few Americans regularly look to or trust Trump as a source of information on the pandemic." The survey from the Associated Press-NORC Center for Public Affairs Research found only 23 percent of Americans say they can trust information about the virus from Trump quite a bit or more.
And according to a new CBS News poll, 63 percent of Americans are more worried about restrictions lifting too fast and worsening the outbreak than they are about lifting restrictions too slowly and worsening the economy.
So what would make people comfortable to resume normal activity? According to the progressive Navigator survey, it's tests, monitoring, masks and health experts saying it's OK.
What wouldn't? As Navigator pollster Nick Gourevitch tweeted: "A grand declaration from the President saying that we are open for business." Here's Gourevitch's slide: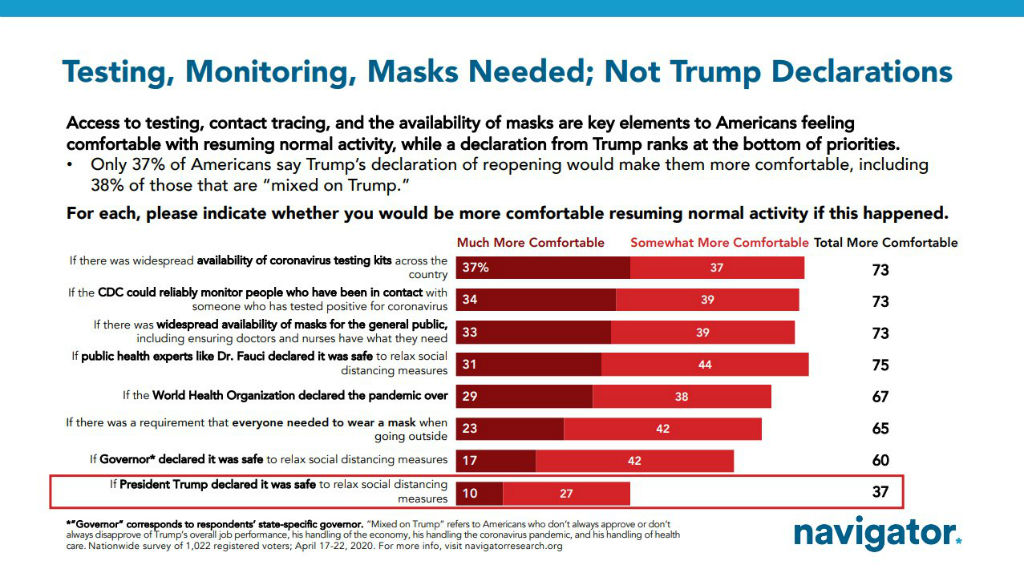 It's entirely appropriate that widespread testing come in at the top of the list. That's what public-health experts have been saying for weeks – slowly but surely influencing the media coverage and evidently making a huge impression on public opinion, if not making a dent in Trump's thinking.
Whether it is incompetence, defensiveness, cluelessness or a self-interested desire to conceal the extent of the virus's spread, Trump has continued to insist that testing, which has been lagging since the get-go, is going perfectly. In fact, at Wednesday's afternoon's briefing, he suggested there might be too much.
That elicited a marvelous exchange on CNN between anchor Don Lemon – who has been one of the most persistent and outraged TV proponents of more testing – and Daniel Dale, the long-suffering fact-checker extraordinaire.
Lemon played a clip of Trump insisting that "we are the king of testing" and that "we're doing more testing I think than probably any of the governors even want."
Dale calmly explained: "There is no governor to my knowledge who has complained that the federal government is doing more testing than they want. I don't even know if that's possible in a pandemic."
Trump has a particularly poor track record when it comes to predictions – from his early forecast that the virus would disappear "within a couple of days," to his assurances last month that it would "miraculously go away," to his recent, constant insistence that there is "a lot of light at the end of the tunnel."
Trump's anticipated Easter Sunday reopening day has come and gone, as has his March 31 prediction that after a "very tough two weeks," things would "get better all of a sudden… like a burst of light."
And his promises – notably of more testing, including a Google-built website directing people to dozens of drive-through testing sites in big-box parking lots – have come to naught.
Cynicism is the order of the day. Here's Jeremy Konyndyk, an expert in outbreak preparedness at the Center for Global Development, on CNBC on Thursday:
I'm not putting any stock in any reports of what may be coming on testing until we actually see it come one line and we see it work. We have been hearing… miracles are soon to arrive on testing. We've been hearing that for more than a month, since that Rose Garden event with all of the CEOs from the private sector promising great things which a month later has still not materialized.

We are stuck at the level of around 150,000 to 160,000 tests a day. We've been there for weeks. We haven't budged. Meanwhile, the case counts over that period have grown dramatically. So compared to the level of cases, we're actually losing ground on testing. Until testing actually begins to come online at scale we are not ready to reopen because we don't really know how many cases there are. Not in Georgia, and not anywhere else. Not for real.
The role of the press corps
In an essay in the Intercept, Pulitzer-Prize winning former New York Times reporter James Risen wrote on Wednesday that "some of Trump's most important enablers are the reporters in the White House press corps." He continued:
Instead of ignoring his lies and outrageous statements, they dutifully cover his Covid-19 press conferences and tweets as if they were the serious, coherent statements of a genuine national leader. In the process, they are aiding and abetting Trump's disinformation campaign, which could result in thousands of additional and needless deaths.
I've argued there's a better way, and that White House reporters could perform a public service if they aggressively confronted Trump with facts and with the consensus view of public-health experts.
They could also summarize a powerful New York Times opinion column by Aaron E. Carroll, a professor of pediatrics at Indiana University School of Medicine, in which he explains that the assumption that the infections will go down as fast as it came up is, unfortunately, magical thinking. Carroll writes:
Leaders are overestimating how far they've come, and they're underestimating what it will take to manage Covid-19 in a more close-to-normal world. Failure to properly prepare will either result in a surge of infections and all the negative health and health care system ramifications that come with it, or a second round of sheltering in place much sooner than anyone expects. Neither is a good outcome.
The press corps could also call more attention to how Trump's singular focus seems to be on what will help him politically – namely getting the economy going again. And they could contrast his approach with those of other leaders.
Gourevitch, the pollster, concludes that one big reason the public doesn't trust Trump on issues like reopening is that they see it primarily as a public-health issue rather than an economic one.
Given the President's disregard for solving the health crisis, it's no surprise that the President's rating continue to decline. Trump's health care approval is severely under water. Over the last month we've seen that rating go from -2 to -16. pic.twitter.com/fckr1aDAS8

— Nick Gourevitch (@nickgourevitch) April 23, 2020
As I've noted before, over on the West Coast, California Gov. Gavin Newsom is a useful point of comparison.
Phil Willon and Taryn Luna write in the Los Angeles Times that Newsom on Wednesday said that increased testing is needed before he reaches any conclusions about when it's safe to relax stay-at-home orders – and he announced new initiatives complete with metrics.
The new initiatives would substantially increase California's coronavirus testing capabilities, which currently average 14,500 tests a day among all public and private labs. The Newsom administration's target is 25,000 tests a day by the end of April and up to 80,000 daily tests in the near future.
That comes after Newsom last week set conditions for reopening that don't focus so much on whether cases are trending down – like Trump's guidelines do – but on whether his state is prepared to keep them trending down once it reopens.
Finally, the White House press corps has now been warned that Trump intends to flood his briefings with statistics in an attempt to show the nation's readiness. That creates an obligation for reporters to put those numbers in context, and hold Trump accountable to reasonable metrics — which if he doesn't set, someone else should set for him.