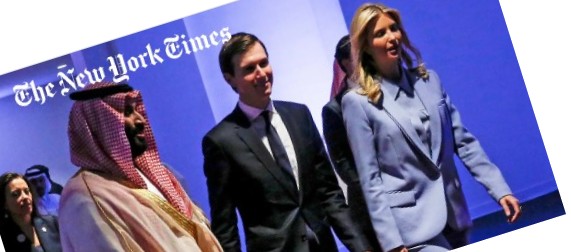 The New York Times broke an extraordinary story on April 10 involving the Trump family and a massive payoff from a ruthless, murdering dictator. The article by David D. Kirkpatrick and Kate Kelly shocked the conscience of even the most jaded news consumer.
What an amazing first paragraph:
Six months after leaving the White House, Jared Kushner secured a $2 billion investment from a fund led by the Saudi crown prince, a close ally during the Trump administration, despite objections from the fund's advisers about the merits of the deal.
Every single thing about this deal is just unimaginably wrong. Kushner had no private equity experience and appears to have signed up no other major investors. The Saudi panel found Kushner's fee excessive, called his operations "unsatisfactory in all aspects," and identified "public relations risks" from doing business with him.
Nevertheless, Crown Prince Mohammed bin Salman, who Kushner had wooed while serving as his father-in-law's Middle East envoy, insisted on making the deal. It could be payback for the past – such as when Kushner continued to serve Saudi interests even after his new friend was found to have ordered the killing and dismemberment of Washington Post columnist Jamal Khashoggi. It could be a down-payment on a second Trump administration. It could be both.
And yet, nine days later, Fox News viewers haven't heard a word about the deal.
That may not be a huge surprise. But CNN viewers haven't heard a word about it either, nor have readers of its website.
Nor have people who watch the news on CBS, NBC, or ABC – not on the nightly news, not on the morning shows, not on the Sunday shows.
The Associated Press and Reuters also published nothing.
(It's hard to prove a negative, but I scoured news websites and TV transcript databases. And I will update my finding if necessary.)
How do these major news organization simply choose to ignore a story that's this significant? Apparently, they feel that more news about Trumpian corruption – no matter how spectacular – simply doesn't merit a mention. It's a damning reflection on their judgement – as well as a sad statement about the times we live in.
But what was most troubling to me, actually, was that the New York Times just let this story die. The editors and reporters there know full well that the way you sustain interest in a story is that you keep writing about it, adding incremental developments and reactions, ideally on the front page.
There's no better (or worse) example than its coverage of Hillary's emails.
So where were the relentless follow-up stories keeping the Saudi payoff in the news?
And to be clear, there are many angles worth following up.
The silence from the Times and the others I mentioned has, thankfully, been pierced by a  handful of other outlets, several of which raised – if not answered – the kinds of questions the Times should have continued to doggedly pursue, day after day.
On the PBS NewsHour on April 15, Judy Woodruff at least asked two of the most important questions that need addressing: "Where are the lines? Where should they be?" Sadly, in her case, these were rhetorical questions. Reporter Geoff Bennett capped off his listless rehash of the Times story with the verbless fragment sentence: "A big-dollar deal with big ethical questions." David Brooks and Jonathan Capehart also whiffed.
Philadelphia Inquirer opinion columnist Will Bunch phrased the question a bit differently: "How is Jared's fishy-as-heck $2 billion Saudi windfall not a crime?"
Will there be a congressional investigation? MSNBC, to its credit, has broadcast several segments about the deal since the Times story came out. Most recently, Mehdi Hasan on Sunday played a clip of Sen. Elizabeth Warren telling Pod Save America host Tommy Vietor: "I think there's a question that the Department of Justice should take a really hard look to see… does it violate any of our criminal laws? And I'd want to take a hard look at that."
Hasan continued: "Thank you Senator Warren for saying what many of us have been wondering. I mean why has there been so much silence from the Democrats on Jared Kushner receiving a $2 billion investment from a fund led by the Saudi crown prince?"
Great question the Times could have pursued there.
In its story, the Times explained that "No law or rules constrain the investment activities of former administration officials after leaving the White House." But what about bribery? Or foreign anti-corruption statutes?
The Washington Post took note of the Times story in an online column the next day by Aaron Blake, who wrote about it in the context of "Donald Trump's 180 on Saudi Arabia." That's a topic the Times could have addressed in a follow-up story.
HuffPost's Paul Blumenthal published a piece based on the Times article a few days later, adding the observation that:
As with so many things done by Trump and his family, Kushner's $2 billion Saudi payout highlights a preexisting malady in American life by taking it to its extreme. In this case, that malady is the commercialization of the post-presidency that has taken hold over the past 40 years.
That's a great angle the Times could have explored.
What is Kushner promising other investors? That would have been a great line of inquiry.  But instead, Ken Klippenstein of the Intercept got that story. He got his hands on a slide deck showing Kushner's pitch to U.S. investors, which "nakedly touts the former Trump adviser's work with Saudi Arabia and his links to several Trump-era deals." One source described shock at "how cavalierly it seemed to suggest influence peddling" as a "value add."
The night after the Times piece came out, MSNBC's Rachel Maddow interviewed Democratic Rep. Jamie Raskin. "It was a money-making operation from the beginning," Raskin said. "That`s the way I see it. And I do fault the Democrats for not more aggressively pushing the foreign government emoluments that Donald Trump was raking in from Saudi Arabia and from the United Arab Emirates and from Indonesia, from governments all over the world."
Is there a new case to be made for an emoluments clause?
And what a great peg this story would have been for the Times to write extensively about the threat of a Trumpian kleptocracy in a second term!
How about revisiting some of the past reporting on Kushner's felonious father (pardoned by Trump), his controversial real-estate deals, or the denial of his security clearance (until Trump intervened) on account of potential foreign influence?
All those would have been good follow-ups.
By contrast, this is how bloodlessly the Times contextualized the significance of its own story:
Ethics experts say that such a deal creates the appearance of potential payback for Mr. Kushner's actions in the White House — or of a bid for future favor if Mr. Trump seeks and wins another presidential term in 2024.
A Washington Post editorial on the 14th declared the deal a "troubling arrangement" and concluded: "There should be nothing partisan about ridding U.S. foreign policy of even the appearance of self-interest by those who conduct it."
"Failing to scrutinize the deal will further erode trust in U.S. democracy, at home and abroad," wrote Ali Al-Ahmed, director of the Institute for Gulf Affairs, in a Post op-ed.
The New York Times editorial board, meanwhile, has said… nothing at all.
The night after the article came out, MSNBC host Lawrence O'Donnell devoted the top of his show to it.
"In the 24 hours since this massive Saudi investment in Jared Kushner and Ivanka Trump was discovered and reported by the New York Times," he said, "we have not heard one word of objection from any of the Republicans who spend their days and nights obsessed with the possibility that Hunter Biden might have earned a few hundred thousand dollars from people who would not have been in business with him if his father had not been vice president of the United States."
But it's not just Republicans who aren't talking about it. It's most of the media. Including the New York Times.