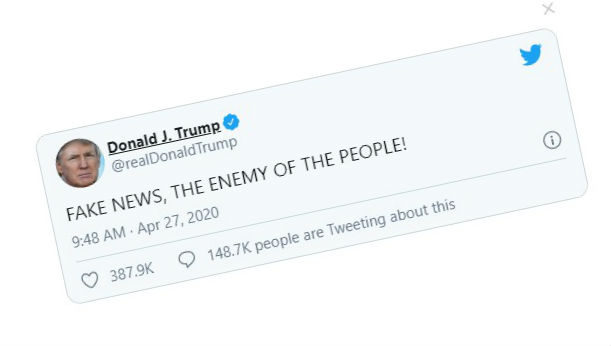 One of the likeliest and most dramatic things that Elon Musk will do once he has acquired Twitter is let Donald Trump back on.
The effect on our nation's discourse will be disastrous. And, sadly, I fully expect the news media to go back to its old ways of serving as Trump's megaphone.
News coverage of Trump's remonstrations, accusations, and prevarications declined sharply when he was permanently banned from Twitter, two days after the Jan. 6 insurrection he fomented. But I suspect it will return to something approaching pre-ban levels when and if he returns.
I don't think the political reporters in our top newsrooms have learned anything. It was Twitter's ban that caused them to lose interest, not their insight or wisdom.
I was frankly surprised at how effectively the Twitter ban reduced Trump's voice in the media. Part of it was certainly that the frequency of his postings dropped precipitously. But I think key reporters felt both liberated and obligated to pay attention to him when he was on Twitter.
Liberated, because covering Trump was never easier and more exhilarating than when a tweet's crazy content made for clickbait stories and a TV hit.
And obligated because Twitter was (to them at least) the public square, so they figured that Trump shouting there couldn't be ignored.
Once he's back on Twitter, Trump will again be impossible for some political reporters to ignore — especially the worst, most attention-seeking ones, many of whom sadly dominate the major media outlets of the country.
Twitter's content moderation has sometimes been highly problematic. Its censorship and punishment of the New York Post, for instance, was a major mistake. The October 2020 article in question was credulous and hugely problematic, but hardly a danger to the republic.
Banning Trump, by contrast, was a profound public service. Trump is and was an uncanny, uniquely destructive person. The way he describes people and issues brings out the worst in his enthralled supporters. And when it's being regularly broadcast and amplified, it severely skews the center of gravity of the political discourse toward hatred, racism, misogyny and division.
The Big Lie in particular is a toxic concept, poisoning his supporters with disinformation and the righteous obligation to dismiss and attack the results of democratic elections that don't go their way. No respectable medium or platform should be a party to spreading it.
For Twitter to say that it doesn't want to be used in such a way is highly appropriate. I'm a "free-speech absolutist" when it comes to government controls over speech. But non-governmental organizations can set their own standards. They're not obligated to host speech that consists of lies and incitement.
As for the media, I'm not saying political reporters should ignore Trump's tweets when they start up again. But if they rise to the level of newsworthiness, reporters should not simply quote his lies and then rebut them with facts. They need to provide context. And in the case of Trump's tweets, the context is motive: the why behind the lie.
So a story about Trump tweeting out the Big Lie, for instance, should start off by addressing why he would do that:
Trump again today repeated a lie intended to mislead his supporters and cast doubt on any future election in which he loses.
Then it should delve into the effect this lie is having:
The lie, amplified by the Fox network and other spreaders of disinformation and propaganda, incited the Jan. 6 insurrection, has persuaded the vast majority of Republicans that the 2020 election was stolen, and has led to threats of violence against election workers, among many other downstream effects.
Then could come some background on how there was no widespread fraud, no conspiracy, and in fact copious evidence that the election was fair and honest and he lost.
Only then, if at all, would it be appropriate to quote the tweet.
I am not hopeful, however.
Putting Trump back on Twitter will return him to the de facto position of assignment editor for our major newsrooms — at least until another public square emerges, which I hope will happen soon.