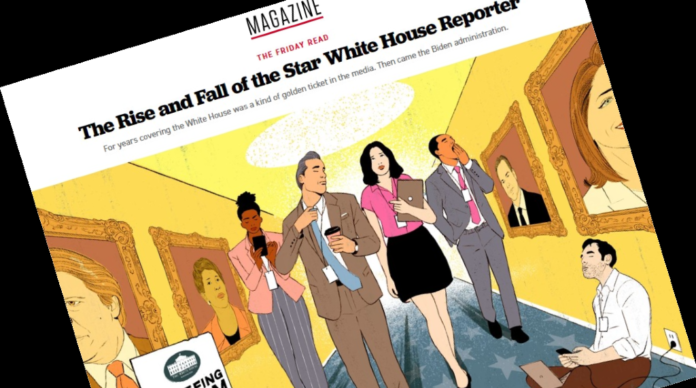 White House reporters are bored, Politico reports.
According to Politico's own White House reporter Max Tani, they're unhappy because they're not getting the attention – or reaping the career rewards – that came with covering the madness of the Trump White House.
Biden "has been a journalistic sedative" compared to "the most theatrical, attention-seeking, Beltway-panic-inducing president in living memory," Tani writes.
"Gone are the Tweets that sent newsrooms scrambling," he notes, wistfully.
The constant lies, the wild incompetence, and the staging of an attempted coup all made for great material. Now, White House reporters say, "the storylines, while important, and substantive, can lack flair or be hard to get viewer attention."
One anonymous reporter told Tani that Press Secretary Jen Psaki "is very good at her job, which is unfortunate."
It's not entirely clear whether Tani was looking for sympathy or writing ironically. But in either case, his article reveals a sad truth about political reporters in Washington: Trump was energizing to these people, while the hard work of governing leaves them cold.
Trump turned the White House into a thrilling reality TV show and covering him was easy. All that mattered was Trump. He'd say something nuts, White House reporters would write it down, adding a caveat somewhere that "critics disagree." They'd get rewarded by trending on Twitter, leading the front page, and getting invited onto TV.
Now it's more complicated.
They think it's boring, but that's because they're not doing what the public needs them to do. They're not there to get cheap thrills and better jobs, they are there to tell the nation and the world what the White House is doing, why, and whether it's helping or hurting.
The reality is that the nation and the world face an unprecedented array of challenges. So instead of asking "why doesn't the president talk to us more?" they should be asking "how can we fix this mess?" But that requires breadth of knowledge and critical thinking – and sources outside the White House – all of which is apparently too much trouble.
Their addiction to conflict and drama is arguably the answer to the last question the late great media critic Eric Boehlert asked on his blog: "Why is the press rooting against Biden?" Their disappointment with Biden, as amply illustrated in Tani's article, really makes it sound like they want Trump back.
The response on Twitter was furious, full of mockery and pain. These tweets are really worth reading:
You want to know what Twitter is good for? Savaging the people who abuse their perches in the traditional media.
The timing of this article is not coincidental, by the way. As Tani writes, "White House scribes" are " shaking out their tuxedos and cocktail dresses to gather for the White House Correspondents' dinner on Saturday." There, they will celebrate themselves for their awesomeness, despite how boring and unrewarding their jobs are.