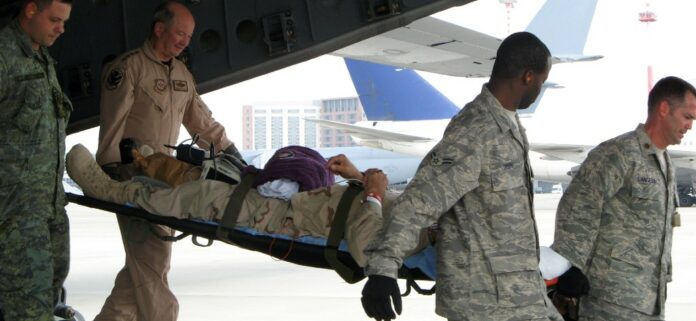 (This is an updated version of a story I first wrote in 2011.)
Somewhere around 275,000 Iraqi civilians are thought to have died during and after the U.S. invasion 20 years ago. No one even pretends to know how many were wounded.
But we also don't know – and have never reckoned with — how many U.S. servicemembers came back from Iraq less than whole.
News articles about the war in Iraq routinely describe the toll on the U.S. military the way the Pentagon does: 4,487 dead, and 32,226 wounded.
The death count is accurate. But the wounded figure wildly understates the number of American servicemembers who suffered injuries, losses, and lifetime afflictions during the war that George W. Bush and Dick Cheney started based on lies.
The true number of military personnel injured over the course of our nine-year-long fiasco in Iraq is in the hundreds of thousands — maybe even more than half a million.
That's taking into account all the men and women who returned from their deployments with traumatic brain injuries, post-traumatic stress, depression, hearing loss, breathing disorders, diseases, and other long-term health problems.
We don't have anything close to an exact number, however, because nobody's been keeping track.
The much-cited Defense Department casualty figure comes from its tally of "wounded in action" — a narrowly-tailored category that generally applies to servicemembers who needed immediate medical treatment after having been shot or blown up. Explicitly excluded from that category are "injuries or death due to the elements, self-inflicted wounds, combat fatigue" — along with cumulative psychological and physiological strain or many of the other wounds, maladies and losses that are most common among Iraq veterans.
The "wounded in action" category is relatively consistent, historically, so it's still useful as a point of comparison to previous wars. But there is no central repository of data regarding these other, sometimes grievous, harms. We just have various data points that indicate the magnitude.
Consider, for instance:
There are surely many other data points out there. But a comprehensive tally escapes us. In the meantime, the figure for "wounded" constantly cited by politicians and the media does not come close to reflecting the real cost to the servicemembers who went to fight for a lie and will never be the same again.
We owe it to them to make a full accounting of their sacrifice — and then never forget it.