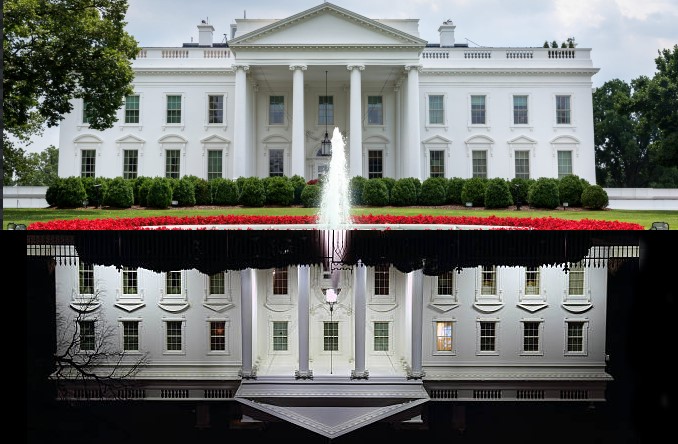 A common narrative has emerged in the coverage of the 2024 presidential election. It's that both candidates are flawed; that even Democrats are worried about Joe Biden's age and even Republicans are worried about Donald Trump's derangement.
Maybe neither of them should be in the running, this narrative suggests. After all, according to an NBCNews poll in April, 70 percent of respondents said Biden should not run, including just over half of Democrats, while 60 percent of respondents said the same of Trump, including a third of Republicans.
It's a catchy both-sides narrative, making it irresistible to the hacks who dominate American political reporting.
But it's also journalistic malpractice.
That's because a Trump-Biden contest is still by far the most likely scenario for 2024, and the stakes will make it vastly too important to just be a popularity contest.
It will be the most significant referendum on democracy and the American future since, well, the last one.
Trump and Biden represent wildly conflicting visions of America, with those differences dwarfing the failings of either candidate.
Will the United State of the future be a true democracy, celebrating pluralism, with an aggressively proactive federal government?
Or will it be an increasingly white Christian nationalist state with a dictatorial leader, where policy is auctioned off to powerful right-wing corporations?
That's a big deal. That's the real drama. (And it's the same drama whether Trump or Ron DeSantis are the Republican nominee.)
That's what political reporters should be warning the public about ceaselessly.
And yet they seem largely uninterested.
What They Write About Instead
The polls they field and the headline they run are about approval ratings and personal defects, like "Biden faces broad negative ratings at start of campaign, Post-ABC poll finds," with a lead byline for Dan Balz, the hoary hack who should have retired years ago. The story goes:
His overall approval ratings have slipped to a new low, more Americans than not doubt his mental acuity, and his support against leading Republican challengers is far shakier than at this point four years ago.
When our top political journalists talk to voters, they don't ask whether they want a democracy or an autocracy, they ask about perceptions of the two men.
Case in point, Washington Post reporters Danielle Paquette and Sabrina Rodriguez traveled to Door County, Wisc. one of only nine counties across the country that have backed the presidential winner in every election since 2000. Then they wrote:
In interviews this spring, 18 months before the 2024 election, residents across the political spectrum said they harbored doubts about the front-runners. Democrats expressed concerns about President Biden's age and his handling of the rising prices of everyday goods. Republicans, irked by former president Donald Trump's erratic behavior, said they desired a more even-keeled candidate.

These sentiments squared with the latest national survey from Marquette Law School, which found that although Trump and Florida Gov. Ron DeSantis (R) had slight leads over Biden, more Americans held negative than positive views of all three candidates, and most Democrats said they didn't want to see Biden run again.
When the reporters did address actual policy issues, it was as quickly as possible — thereby favoring Republican positions, which tend to be pithy, fear-inducing talking points about dramatic action (close the border! Drill! Put 'em all in prison!) over Democratic solutions, which tend to be wonky and complicated.
In Door County, for instance, residents told the Post reporters of their concerns about a persistent labor shortage, an affordable-housing crunch, and "demographic change" in their county. But the reporters didn't remotely address the causes, the costs, and the benefits, or which candidate might in reality be best equipped to address those issues. Instead, they wrote:
Conservatives said inflation and border security have worsened under Biden, asserting that unvetted outsiders could bring drugs and violence. Liberals said the administration hasn't done enough to create legal pathways for migrants to work in the United States, stifling opportunity and industry.
There was no mention, say, of how Wisconsin's economy has thrived under Biden. In Door County specifically, employment was up 6 percent from 2020 to 2022, while annual wages increased 10 percent, from $39,079 to $42,908.
Age-Old Obsession
Recent Trump coverage has understandably focused on his indictment and arrest on federal criminal charges, with much of it either implicitly or explicitly raising the issue of whether his apparent crimes will or should take him out of the running. There's been very little about the crazy things he says he'll do if he wins in 2024. (A rare exception: The Thursday New York Times article about how "a second Trump term would fully jettison the post-Watergate norm of Justice Department independence." Bravo!)
But at a point when reporters should be focusing on Biden's surprising record of achievements — and reporting on whether they've been effective or not — they continue to obsess on his age.
The pinnacle of this obsession appeared in the New York Times in early June, headlined "Inside the Complicated Reality of Being America's Oldest President." ("Inside" being the clickbait word of the moment, even when there is nothing remotely inside about anything.)
Star reporter and quintessential political hack Peter Baker and three other Times reporters wrote that Biden's decision to run for reelection is "drawing more attention to an issue that polls show troubles most Americans and is the source of enormous anxiety among party leaders."
Biden "shuffled stiffly," he "tripped over a sandbag," he "looks older than he used to because of his stiff gait and thinning voice," they wrote.
And consider this line:
During a recent New York Times focus group, several voters who supported Mr. Biden in 2020 expressed worry, with one saying: "I've just seen the blank stare at times, when he's either giving a speech or addressing a crowd. It seems like he loses his train of thought."
That New York Times focus group was not the work of the news department. It was done over on the opinion side. And the person who chose the members and led the discussion was Kristen Soltis Anderson, a Republican strategist and pollster. Among the questions she asked: "If you had to describe Joe Biden as an animal, what animal would you pick?"
Losers
Either it's the press, not the public, that's obsessed with age and character, in which case shame on the press.
Or the public truly doesn't care as much about what kind of country we should be as they do about age and character — in which case the press has failed to explain the stakes.
Either way, the press loses, and we lose.