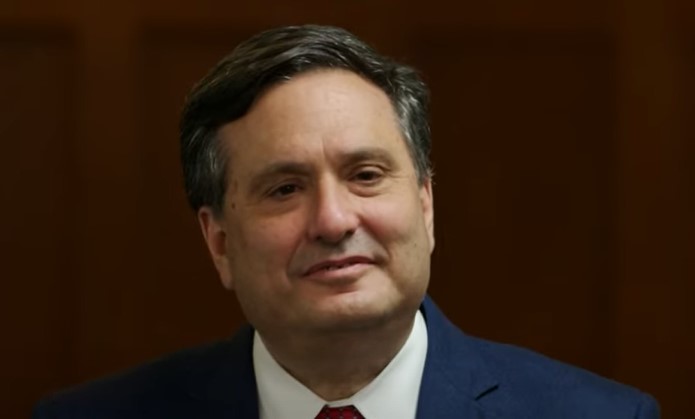 Sean Sullivan and Tyler Pager wrote a nasty profile of White House Chief of Staff Ron Klain for the Washington Post on Tuesday, headlined "Ron Klain had the perfect résumé. His first year showed the limits of that experience."
Harping on Klain's credentials struck me as an odd approach to profiling arguably the most influential White House chief of staff since Don Regan.
There's a snarky, gotcha tone to the whole thing, with vague allusions to problems that are never fleshed out (how was it "counterproductive" for Klain to tell his Covid czar to move faster?)
The nastiest attacks on Klain are anonymous. Sullivan and Pager wrote:
Some administration officials questioned Klain's management style, noting that no senior officials have been fired, despite missteps on key fronts. Others complained that Klain's presence on Twitter, regularly retweeting pro-Biden messages or occasionally taking aim at critics, reflects a focus on superficial Washington chatter.
They complain about his presence on Twitter? Seriously? But wait, here comes the ugly, sorta racist anonymous criticism:
Some Democrats complained about Klain's frequent conversations with Congressional Progressive Caucus Chairwoman Pramila Jayapal (D-Wash.)….

One frustrated Democratic member of Congress, speaking on the condition of anonymity to talk more freely, accused Klain of creating "a monster" by empowering Jayapal, using an expletive to underscore the point.
It's worth noting that all these anonymous attacks are a blatant violation of Washington Post policy, which states:
We should not publish ad hominem quotations from unnamed sources. Sources who want to take a shot at someone should do so in their own names.
Clearly the reporters were desperate for material to support their thesis. Maybe they should have revisited it instead.
This was also a big missed opportunity. According to a Post morning newsletter, Sullivan and Pager interviewed "more than 60 White House and administration officials, Cabinet secretaries, members of Congress and Klain associates."
Nevertheless they failed to answer key questions: How does this White House work? Who gets the last word with the president? And just how powerful is Klain?
My sense is that Klain is Biden's spine, his rock — and is why Biden developed and then stuck to an agenda that reflects the enormous scope of the crises facing us. Some call that "left" – I call it common sense. Post reporters and their anonymous sources find it highly suspicious.
I would have sent this story back for a total rewrite, suggesting as an opening paragraph something like this:
Some Democrats say President Biden's agenda has been too ambitious, turning off swing voters, and they blame White House Chief of Staff Ron Klain. But Klain's bitterest critics won't go on the record – quite possibly a recognition of the almost unprecedentedly close relationship between him and his boss. Klain may be the most powerful chief of staff since the Reagan era.

How much credit or blame he deserves for having persuaded Biden to go big remains murky, even after 60 interviews with officials and associates. But there's no question that the more corporate-oriented Democrats – the incrementalists – would like to see him gone.

"I think the challenge here is not that we've tried to do too much," Klain said. "It's that we still have work left to do."