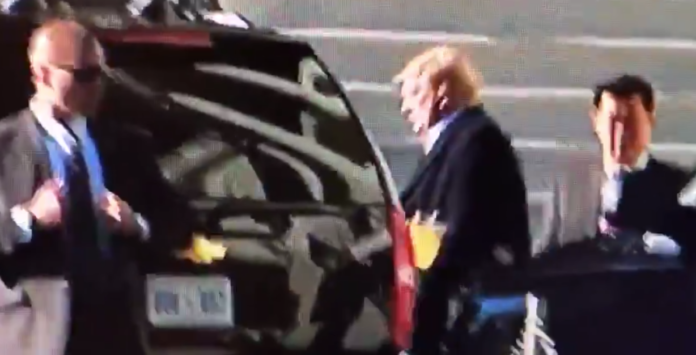 The complete inability of the political press corps to properly respond to even the most obvious deceptions emerging from the Trump White House has perhaps never been more evident than over the weekend, when Trump was rushed to Walter Reed Hospital and his press office provided an explanation that was not remotely credible.
And yet, despite knowing full well that the explanation was full of lies, top political reporters put those lies in their headlines and opening paragraphs, leaving their readers and viewers either duped or reduced to trying to discern the truth through some form of tea-leaf reading Kremlinology.
Is there no lie so blatant the Washington press corps will refuse to spread it? The question comes up almost daily.
This very morning, for instance, we were greeted with news alerts about a tweet in which Trump laughably and preposterously asserted that he would "strongly consider" testifying before the House Intelligence committee. That's bunk.
I wrote about an epic example a few weeks ago, after the media swallowed whole Trump's ridiculous, unsupported hyperbole about ISIS leader Abu Bakr al-Baghdadi's alleged "whimpering" — then regurgitated it in countless headlines and breathless TV-news reports despite the complete lack of any supporting evidence.
Sadly, the fact remains that even after three years of lies, distractions, and chaos, political reporters are still trying to make Trump news fit into the traditional model for White House coverage.
That means stenographically reporting what Trump and his aides say, and maybe injecting a partisan rebuttal several paragraphs into the story or in a fact-check down the line.
You know how journalists complain that Twitter is a cesspool of disinformation? Well, that's partly true. But over the weekend, Twitter responded to Trump's hospital visit with instant, sometimes profane, and entirely appropriate suspicion and disbelief, making it a much better place to ascertain the truth than the Washington Post or the New York Times.
So you had CNN law enforcement analyst Jonathan Wackrow tweeting:
This does not add up; the White House Medical Unit has very comprehensive facilities at the White House complex that could easily accommodate most of what is needed in an annual physical. As a fmr USSS Agent assigned POTUS, I have never seen the annual formality occur in stages. https://t.co/32KGdf8yXR

— Jonathan Wackrow (@JDWackrow) November 16, 2019
You had Philippe Reines, a top aide to Hillary Clinton as secretary of state and 2016 presidential candidate, tweeting:
donald trump suffered a serious medical emergency. So serious the White House medical unit — staffed 24/7 & well-equipped — couldn't handle it. He was rushed to Walter Reed Medical Center.

Until they prove otherwise that's the truth. Not a tweet. Not Grisham's statement.

PROOF. https://t.co/7hunWhnmid

— Philippe Reines (@PhilippeReines) November 17, 2019
And you had Democratic activist John Rennhack not unfairly tweaking the press:
He media you might've missed it but Trump was rushed from the White House to the hospital with a weak cover story. If @HillaryClinton Had double dipped her potato chip at a cocktail party it would be a headline today and you would be calling for her to step down.

— John Rennhack (@johnrennhack) November 18, 2019
How the major newsrooms covered it
CNN, almost alone, seized on the story on Monday, repeatedly declaring that the visit "raises questions" about Trump's health.
But elsewhere in the mainstream media, there was a lot of transcription, sometimes peppered with indeterminate skepticism.
Reuters headlined its story Trump touts his 'very' good health after unscheduled medical check. The first paragraph:
U.S. President Donald Trump said on Sunday he was in "very good" health after undergoing the first phase of an annual medical check the previous day.
In the Washington Post story, headlined Trump is 'healthy as can be,' White House press secretary says after doctor visit, reporters Felicia Sonmez and Lenny Bernstein used the White House's denial of unidentified "rumors" to vaguely suggest the possible existence of a true story under there somewhere. They wrote:
White House press secretary Stephanie Grisham said it is "absolutely not" true that President Trump's visit to a doctor Saturday was anything other than a routine physical exam, maintaining that he is "healthy as can be."

"Oh, the rumors are always flying," Grisham said Saturday when asked during an interview with Fox News Channel host Jeanine Pirro whether there was any truth to the speculation that the visit was out of the ordinary. "Absolutely not. He is healthy as can be. I put a statement out about that. He's got more energy than anybody in the White House. That man works from 6 a.m. until, you know, very, very late at night. He's doing just fine."
The Post reporters also noted Pirro's basically insane description of Trump as "almost superhuman" — but offered no interpretation or pushback, presumably because they assumed readers would appreciate its absurdity on their own.
Here again, Twitter handled it better. Naval War College professor Tom Nichols tweeted:
Like I keep saying, at some point this isn't about politics; when you're saying a lazy old man whose day is mostly golfing and rage-tweeting is almost "superhuman," you're in North Korean territory and there shouldn't be enough money in the world to make you say stuff like that. https://t.co/BVo87j8GWM

— Tom Nichols (@RadioFreeTom) November 17, 2019
In the New York Times, the Trump hospital story assignment fell to Neil Vigdor, a breaking news reporter on the Express Desk, whose story was headlined Trump Went for a Medical Checkup That Was Not on His Public Schedule, and he pretty much left it at that.
An NBCnews.com article, White House defends Trump's surprise medical exam amid skepticism online, at least indicated that some people "felt the White House and the president weren't being upfront about it," but it was still mostly White House stenography, with a few tweets thrown in.
Surely you could turn to the savvy political morning newsletters for the inside dope? Nope. There was not a peep about the story either in Politico's Playbook or Mike Allen's list of the day's big things.
What they should have done
But here's the thing: The White House's lack of credibility and the ensuing not-knowing are not something political journalists should be writing around. That's exactly what they should be writing about.
So, in this case, the news is precisely that they won't explain and so we don't know the truth.
That in turn leads to legitimate concern that Trump is hiding a serious medical problem.
So the headlines should have been along the lines of: "Trump's sudden, insufficiently explained hospital visit is indicative of a health problem". Not "Trump says he's healthy".
Furthermore, when they are intentionally deprived of facts, reporters who want to help their readers understand what's going are entitled to turn to informed speculation.
Given Trump's physical appearance and the timing – after two days of brutal impeachment testimony and in the midst of a stunning political loss in Louisiana — speculation about a panic attack or heart problems would have been entirely legitimate.
Not asking so much really
Every reporter and editor paying attention to this story knew the White House was lying.
Consider the alarming-looking video:
POTUS health. WH says Saturday trip to hospital was "routine" & he's "fine" despite break from past practices. Here is glimpse of Pres Trump and what appears to be WH physician Sean Conley getting into motorcade. Watch. (h/t @WinstonNBC) pic.twitter.com/8ZynFF2ytQ

— Kelly O'Donnell (@KellyO) November 17, 2019
Karen Tumulty, who not so very long ago was the Washington Post's national political correspondent, wrote in an opinion column:
The only thing of which we can be fairly certain about President Trump's mysterious Saturday-afternoon trip to Walter Reed National Military Medical Center is this: The White House is not telling the truth when it claims the president was there "to begin portions of his routine annual physical exam."

We know this because — well, because those people lie about pretty much everything.
And as she pointed out, they lie about Trump's health in particular!
Who could forget the fables from his personal physician, Harold Bornstein, who released a letter in 2015 assuring the nation that an overweight 70-year-old man with a lifetime of bad eating habits and an aversion to strenuous exercise would be "the healthiest individual ever elected to the presidency?" (Bornstein later said Trump himself had dictated the letter.)
Tumulty presumably didn't have room for the story of Rear Adm. Ronny Jackson whose 2018 physician's briefing extolled Trump's "incredible genes" and described his health as "excellent" eight times. (Trump rewarded Jackson by nominating him to lead the Veterans Affairs Department, but Jackson withdrew after reports that he handed out pain pills like candy and was periodically drunk.)
Tumulty also provided some wonderful historical context that should have been in every news story:
There is, of course, a long history of presidents being less than honest with the country about the state of their health. Grover Cleveland had secret surgery aboard a yacht in the summer of 1893 to hide the fact that he had a tumor on the roof of his mouth. Americans had no clue that Woodrow Wilson's 1919 stroke was so severe that his wife, Edith, was effectively running the country. In the summer of 1944, the Democratic Party nominated Franklin D. Roosevelt to an unprecedented fourth term, despite the fact that only weeks earlier doctors had written a letter predicting he would not survive to see the end of it. (He died nine months later.) In 1957, a press aide in Dwight D. Eisenhower's White House told reporters that his stroke had been a "heart attack of the brain," a phrase the press dutifully reported, as though that was somehow less alarming. Nor did the nation know in real time that the youthful and vigorous John F. Kennedy had a life-threatening case of Addison's disease, or how close Ronald Reagan came to dying by an assassin's bullet in 1981.
CNN media writer and critic Brian Stelter called it:
It's times like these when the White House really needs to have credibility. Times like these – when the president suddenly turns up at Walter Reed military hospital. Here's what I said on @ReliableSources pic.twitter.com/ymcyo07C7D

— Brian Stelter (@brianstelter) November 17, 2019
And the editors knew better! I say this with even more certainty than usual because several of them tweeted as much.
Here's Los Angeles Times Washington bureau chief David Lauter
Perfect example of how the long history of false statements from White House has worn away any presumption of truthfulness. Maybe Trump's hospital visit was routine, but burden of proof is on WH to show evidence. https://t.co/dFudSjsJGc

— David Lauter (@DavidLauter) November 17, 2019
But the only story I found on the LA Times website was this stenographic one from the Associated Press.
And here's Sam Stein, politics editor of the Daily Beast:
When you've burned all your credibility on big, medium and petty matters you lose the benefit of the doubt on important stuff. And, right now, no one realistically can take at face value the WH word on the president's hospital visit yesterday.

— Sam Stein (@samstein) November 17, 2019
But here's the Daily Beast's story: Donald Trump Tweets His Health Is 'Great!' After Checkup.
We can do better than this.