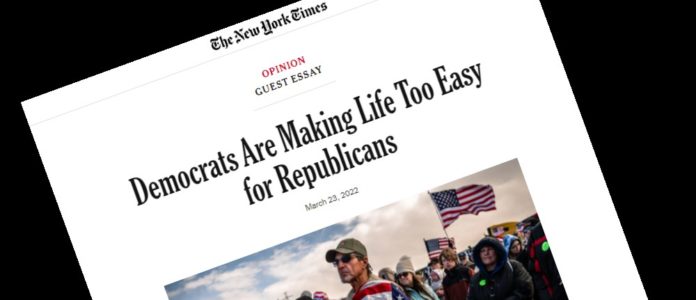 New York Times opinion columnist Tom Edsall wanted to know how I thought Democrats should confront Republican attacks on culture war issues. I told him I have no idea, that's not my job.
I told him I thought that GOP claims about "critical race theory", trans rights and "defund the police" consisted of transparently bad-faith, bogus, manufactured scare stories intended to stoke white grievance and create fake moral panic.
I told him the burden of refuting these outrageous, mean-spirited, hate-filled deceptions and lies wasn't on Democrats, it was on journalists.
I told him journalists should reject right-wing framing on these issues. They should refuse to write about them as if they had any merit.
Then — surprise! – Edsall went right off and did exactly what I advised against.
In his Wednesday column, headlined "Democrats Are Making Life Too Easy for Republicans," Edsall – as he has many times before – amplified centrists who completely buy into Republican propaganda that Democrats have gone so far left that reasonable Americans are horrified.
Edsall started off by platforming the views of fellow self-described pragmatist Ruy Teixeira, who argued that "the cultural left has managed to associate the Democratic Party with a series of views on crime, immigration, policing, free speech and, of course, race and gender that are quite far from those of the median voter. That's a success for the cultural left, but the hard reality is that it's an electoral liability for the Democratic Party."
Edsall quoted one professor saying that after the Black Lives Matter protests, "the conversation jumped to 'defund the police'" which "sounded extreme and scary to a lot of people outside of places like Berkeley, Seattle, Minneapolis."
He quoted another saying that Democrats are "seen as a party defined by ostensibly legalizing property crime, crippling the police and injecting social justice into math classes."
This is all right out of the Republican talking points manual. It exaggerates, demonizes and misconstrues what the Democratic Party — or "the cultural left" — stand for.
For a brief interlude of reality, Edsall also quoted Philadelphia Inquirer columnist Will Bunch, who said too many Democrats are "rooted in a panic that progressive values will be seen as less American — when the reality is that ideas like academic freedom, preventing censorship and a belief in inquiry, including science, are the core beliefs of this nation."
And Edsall quoted me complaining about credulous political reporting that amplified GOP charges that "critical race theory" is taught in public schools, when that's an obvious, bad-faith attempt to manufacture white panic.
But then it was back to citing a Third Way report that "Republicans have been able to weaponize culture war issues in ways that significantly damage Democrats."
Edsall ultimately concluded that "all Democrats pay a price for what a small but prominent group pushes for."
I knew that when Edsall asked my views, he was setting me up to play the role of clueless lefty. But I engaged anyway, for old times' sake.
I once had a lot of respect for Edsall. (This is now two days running that I'm writing about heroes who have sorely disappointed me. Yesterday it was Matt Taibbi.)
Edsall and I were colleagues of sorts at the Washington Post and briefly, believe it or not, at the Huffington Post. I found him brilliant, and a straight shooter.
Even in his latest incarnation, as a sort of explanatory blogger for the New York Times opinion section, Edsall used to put his big brain in the service of explaining reality. Consider this wonderful 2013 post delineating how "The War on Entitlements" threatens the basic security Americans deserve. Or, that same year, his terrific overview of "dark money" laundering, and his excellent dissection of how the GOP's white strategy was working at the state level, reducing Black power, especially in the South. Great stuff.
But these days, almost everything he writes – much of it hugely repetitive – hawks his conviction that Democrats need to stop chasing after some sort of multiracial progressivism, tack to the right, and win back white voters.
A couple years ago I wrote about how the New York Times defines objectivity as the views of a well-off centrist white guy who doesn't even exist. But maybe he does exist, and his name is Edsall.
What seems to animate Edsall the most is his view that Democratic "purists" are responsible for Trump's success.
In 2016, he criticized Hillary Clinton for playing into Trump's hands with comments on Twitter that he wrote "could be construed.. as admonitory." They included: "I don't think a nation can be great that turns its back on the poor and the unfortunate" and "We've got to do more to raise families' incomes. We can start by raising the federal minimum wage."
Edsall wrote:
Trump has capitalized on the visceral belief of many white voters that government-enforced diversity and other related regulations are designed "to bring Americans to submission" by silencing their opposition to immigration — legal and illegal — to judicial orders putting low-income housing in the suburbs, and to government-mandated school integration, to name just a few of their least favorite things.
He concluded:
The refusal of Democrats and the American left to hear — or to grant some legitimacy to — the grievances of white America as it loses power and stature to ascendant minorities and to waves of immigrants from across the globe undergirds the Trump movement.
Over and over, Edsall returns to the same tedious argument, often appending a question mark for cover.
In one column headlined "Should Democrats Embrace the Center or Abandon It?" Edsall's framing made the answer a foregone conclusion: If the party went too far left, it would lose votes from the center.
"Insofar as Democrats place a higher priority on purity than viability," he concluded, "they may be risking an indeterminate extension of the Trump era."
(Edsall himself is no purist. Here he is in 2014 on "The Value of Political Corruption".)
In April 2021, Edsall asked: "Should Biden Emphasize Race or Class or Both or None of the Above?" He then quoted a scholarly paper's conclusion that "linking public policies to race is detrimental for support of those policies."
To Edsall's credit, he included several quotes from Ian Haney López, a law professor at Berkeley who brilliantly mocked the view that "Democrats can maximize support among whites, without losing too much enthusiasm from voters of color, by running silent on racial justice while emphasizing class issues of concern to all racial groups."
As López wrote: "Since at least 2017, this conclusion is demonstrably wrong." Rather, he wrote, "the most potent political message today is one that foregrounds combating intentional divide-and-conquer racial politics by building a multiracial coalition among all racial groups."
Nevertheless, Edsall ended up concluding — once again — that racial issues are losers for Democrats:
Donald Trump, running explicitly as the candidate of white America, won 74,216,154 votes. The fact that Trump was narrowly defeated in the Electoral College remains the salient point, but the burden falls on the Democratic Party to keep Trump and the Republican Party he continues to lord over from regaining the White House and Congress.
In a December column, Edsall asked a question that answered itself:
If, as much evidence shows, working-class defections from the Democratic Party are driven more by cultural, racial and gender issues than by economics — many non-college-educated whites are in fact supportive of universal redistribution programs and increased taxes on the rich and corporations — should the Democratic Party do what it can to minimize those sociocultural points of dispute, or should the party stand firm on policies promoted by its progressive wing?
Edsall is one of those folks who hype the threat of "cancel culture." (See my column from last week excoriating a New York Times editorial in a similar vein.) The right wing of this country has gone full racist/nativist/authoritarian, but in September, Edsall wrote that the real "driving force" in the country's polarization is liberal intolerance and white people who are ashamed of their race.
He can also be shockingly reactionary. In January, he decried – believe it or not – the "exceptionally large increase in foundation grants and pledges to criminal and racial justice reform groups and other causes" driven by the killing of George Floyd and the nationwide Black Lives Matter protests. He explained:
There are Democratic strategists who worry about unintended political consequences that could flow from this surge in philanthropic giving. Rob Stein, one of the founders of the Democracy Alliance, an organization of major donors on the left, argued in a phone interview that while most foundation spending is on programs that have widespread support, "when progressive philanthropists fund groups that promote extreme views like 'defunding the police' or that sanction 'cancel culture,' they are exacerbating intraparty conflict and stoking interparty backlash."
Edsall quoted a few dissenters, but it was clear who he agreed with. And his position was, as usual, based on what he considers pragmatism: Those lies about critical race theory were really effective, Edsall argued. He based that conclusion on a New York Times article by Jeremy Peters, a news-side colleague whose credibility on that issue I demolished in a November 2020 post.
As Dean Baker, co-founder of the Center for Economic and Policy Research, pointed out in early 2021, Edsall is also one of many media luminaries who "act like they are innocent bystanders in the rise of an anti-democratic right-wing movement that constantly lies to advance its agenda. The media have agency but have thus far largely sought to pretend to just be observers. As a result, they allow themselves to be played endlessly by liars."
Edsall quoted me accurately – albeit in the tiny section of his column he devoted to dissenters – but I thought the entire exchange might be worth putting on the record.
First came Edsall's query:
As a regular reader of your columns, I have a couple of questions.
1. Are the culture war issues of critical race theory, transgender rights and defund the police real or phony issues?
2. Have these issues hurt Democratic candidates?
3. How should Democrats deal with these issues?
4. Is there a way for Democrats to gain support in the white working class?

Any thoughts welcome.
I responded:
I'm a press critic and political writer who pursues accountability, not a partisan or a strategist. So I couldn't begin to answer your questions about what Democrats could or should do.

Also, I worry a bit that you've lumped together such diverse issues in one question about the culture wars, but I'll take a stab at addressing that one.

Let's start with critical race theory, which in itself is really two questions. Are you talking about critical race theory as it exists, as a legal theory? Or as it doesn't exist but is a scare story concocted by Republicans as a racist dog-whistle to rile up their voters?

The former is a well-documented and important way of making sense of some otherwise inexplicable aspects of our society and laws, and certainly worthy of discussion in higher education and policy circles. I would like to see political reporters writing more about the real critical race theory, and questioning newsmakers about it.

But I assume you mean the latter, in which case my answer is: It's a phony issue. What far-right Republicans mean by "critical race theory" is that white children are being taught at public schools that they should be ashamed of being white. This is a made-up issue that serves as a stalking horse for inciting white grievance. Like so many of the far-right accusations against their opponents, it really couldn't be less true. The reality is that public schools writ large don't teach nearly enough about the sordid aspects of American history, or culture, as you well know. As a press critic, I have been horrified at how credulously many political reporters have written about Republican lies – and how impressed they were at their alleged (but entirely unproven) effectiveness. They wrote about it as if it were a real problem, rather than an obvious, bad-faith attempt to manufacture white panic. I wrote about that here and here and here and would frankly rather you quoted (and linked) to what I wrote there than here.

Transgender rights is obviously a real issue. But the way the far-right Republicans describe the issue – concocting scare stories about trans people stalking children, attacking them in the bathroom, threatening the future of women's sports – is phony. Trans people deserve the full protection of the law and the constitution. Again, the right is using this issue to scare people and manufacture panic. Generally speaking, American society has moved far and fast on this issue, so I don't doubt there are people who are genuinely not OK with transgender rights. They are real, and shouldn't be ignored. But that doesn't mean right-wing politicians' anti-trans arguments are in good faith.

Reporters should be writing about the right-wing attack on trans rights because it is inhumane, rather than chasing after right-wing storylines and using their talking points to frame the issue. When reporters write about it being used as a culture-war wedge issue, they should put it in the context of previous right-wing crusades against civil rights, women's rights and gay rights.

Police funding is a real issue, but "defund the police" is a fake issue to the extent that the far right characterizes it as the dominant Democratic view, which it is not. There is – or at least was – an emerging progressive view that the U.S. needs to reassess policing, to make it more effective and fair. That could mean shifting some duties (and budget) to social service agencies and the like. It certainly means a change in certain rules, and better training. That's a real issue. But railing against the strawman of "defund the police" is really saying "don't change anything," which should be accurately depicted by reporters as nonresponsive to the legitimate concerns of the Black Lives Matter movement.

I hope that helps.
Edsall asked for more:
You make interesting point on how the press has often mischaracterized these issues and granted conservative arguments credibility when none is due, but you don't address the question of how Democratic candidate or elected official should address these issues when raised by Republicans.

Should a Democrat just say these are phony issues, racial scare tactics without merit, bad faith attempts to stir up white panic? On transgender issues should the Democrat counter that Republicans are concocting scare stories about trans people stalking children, attacking them in the bathroom, threatening the future of women's sports."
That's when I tried to save him from himself:
Yes, I intentionally didn't address those questions because that's not what I do. And frankly I have no idea. My job is not to get Democrats elected, it's to call out lies and hypocrisy and so on, wherever they are.

So I know what reporters should do: They shouldn't amplify what are clearly bad-faith Republican arguments. And frankly, Democrats shouldn't have to say whether an issue is phony or not, journalists should make that clear on their own.

Does that make sense? I'm sorry if I'm disappointing you.