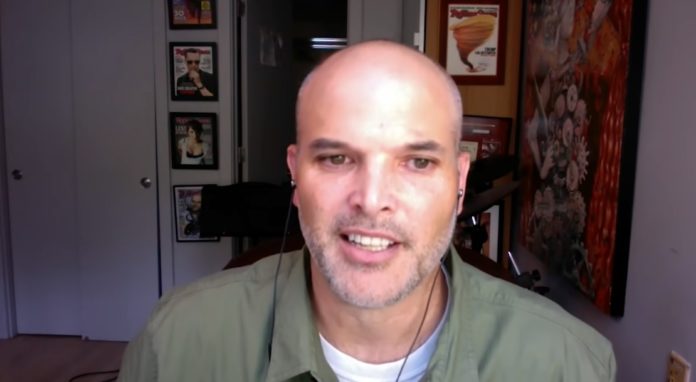 Wow, did I ever use to admire Matt Taibbi.
Nobody exposed skullduggery better, or with more enthusiasm. He relentlessly identified, investigated and eviscerated those who abused their power. And he was so fun to read. His prose leapt off the page and sizzled in your brain.
But now he's turned into something more like your crazy uncle. He sees liberal illiberalism around every corner. He provides succor to those he used to skewer. He's not always wrong, but who wants to dig through that much overheated dross to find the nuggets of truth? (Well, evidently a lot of people on Substack, if you believe their numbers.)
I've long intended to write something about what happened to Matt, and even more so to my friend Glenn Greenwald, to turn them from among the bravest, smartest, clearest-eyed and most ethically consistent journalists I knew into something closer to apologists for the loony right. For those of us who admired them, it's really crushing.
But I don't have the answers. (I'm hardly the first to ask. Ross Barkan, in a New York magazine piece headlined What Happened to Matt Taibbi?, included speculation that Taibbi's fury at being accused of sexual harassment precipitated his fierce attacks against the left.)
I think it has something to do with being addicted to attention, but I'm still trying to figure that out.
Matt reached out to me via Twitter on Monday to talk about the piece I published on Friday about that day's painfully clueless editorial about free speech in the New York Times. It turns out he was among those who felt I went a bit far by calling on the entire editorial board to resign. (I have no regrets.)
Later on Monday, Matt published his response to the editorial, mocking those he felt overreacted to it, like me. He included a few quotes from our exchange.
My hope is that the full exchange will offer some insight into what drives him, as well as let readers more fairly judge the relative merits of our positions:
TAIBBI: So, Dan, read your piece about the Times editorial – I get that they were wrong call it a "right" to not be shamed or shunned, but does that make shaming or shunning a good thing? I mean, demanding resignations over this? Also, why identify [opinion editor Kathleen] Kingsbury and [deputy opinion editor Patrick] Healy, unless you're hoping people will demand their resignations? And wouldn't that mainly just be hilarious, given that Kingsbury was hired to replace the last beheaded Times editor, Bennet? Is the idea to cycle through editorial page editors until you get one who's appropriately focused in the direction you like? Lastly, responding to an op-ed opposing shaming and shunning with more calls for shaming and shunning – aren't you making their points for them?

FROOMKIN: Hi Matt. Thanks in large part to Trump, there's been a resurgence of people saying horrible, racist, hateful and hurtful things to make themselves feel better at the expense of others. Now they're passing laws. Isn't it appropriate for us to try to shame and shun them back to where they think maybe they should shut up? And my demand for resignations was not because I found something they said offensive, it was because their manifesto further and definitively proved signified how clueless and unfit they are to operate such a crucial forum for public opinion. Kingsbury and Healy are in charge, and damned right I think they should be shamed and leave. What's "hilarious" is that Bennet's replacements are just as bad as he was as far as creating a culture that values lib-trolling over all. And yes, I would like them replaced with people who stake out bold, defensible, not-brainless positions, while publishing a very wide range of perspectives from others. (See, by the way, https://presswatchers.org/2020/06/theres-a-better-way-to-present-opinions-online-with-radical-transparency-and-the-new-york-times-should-lead-the-way/.) I will not be satisfied until that happens;  I don't find that hilarious at all. And your final statement is trite and cheap. You have to ask yourself what's anecdotal and what's systemic. And then you can choose between being a drama queen or a hero. You used to be one of my heroes. Please go back to fighting the vampire squids of this world instead of hyping Trumpian claptrap to get attention. P.S. I liked the top of your piece on neocons! I just hope that beyond the paywall it doesn't devolve into a paean to America First.

TAIBBI: Yeah, Dan, I wrote that piece on neocons because Podhoretz thought it was up to him to decide who's American and who isn't. Now you're saying I promote "Trumpian claptrap" because what, I'm pro-speech? Because I don't think Bennet should have been fired? SMH.  When someone like Podhoretz or Bret Stephens says I'm anti-American or pro-Putin for being anti-interventionist, it's absolutely the same as you calling me Trumpian for being pro-speech.  You can't see how much like the Republicans you despite you've become.

Also, does the "wide range of perspectives" you'd like to see encompass any that would support the Republican Party?

FROOMKIN: Sigh. Your main goal these days seems to be to attack the left. I probably agree with you about most of your individual (anecdotal) concerns and I agree that fighting censorship is crucial work. I think the modern Democratic Party is a corrupt and inept mess. But by focusing so much on those problems, rather than the so much greater (systemic) threats from the GOP, you've undermined your credibility. You've effectively thrown in with the smug and the right, who consider "cancel culture" (whatever it is, as the NYT so artfully put it) more important than book-banning, barring discussions of inequality in schools, criminalizing transgender, limiting the vote and only honoring the results if they win. I remain a steadfast progressive, fighting the good fight, happy to be unoriginal in its pursuit. I worry that you have become addicted to trolling, rather than to brilliantly afflicting the powerful, which I always felt was your superpower. (Keep sticking it to the neocons!)  As for whether I would publish a "wide range of perspectives," yes I would, and that includes Republicans, fascists, racists, you name it – as long as there's a good reason to do so. You'd know that if you'd clicked that link! https://presswatchers.org/2020/06/theres-a-better-way-to-present-opinions-online-with-radical-transparency-and-the-new-york-times-should-lead-the-way/  Anyway, I'm hopeful we'll both be and feel like we're on the same side again someday. D

TAIBBI: Your link basically suggests that any "exceptions" to the "reasonable debate" standard be appended with warnings, corrections and circles and arrows pointing to "bad faith" and places where the argument is "morally abhorrent." Basically, you are proposing an op-ed page with Surgeon General's warnings when people are wrong. I'm asking if your idea of a "wide range of perspectives" includes, say, an un-annotated, non-"corrected" op-ed in support of Republicans. I ask that as someone who's never voted Republican and never will. And as for me "throwing in with the right," it's fascinating that you can say that without identifying any actual right-wing positions I've taken, unless saying I like Thanksgiving counts. As for "afflicting the powerful," who do you think is in power in this country? I think Google, Facebook, Apple, Amazon, and the banking and pharmaceutical sectors acting in concert are a lot scarier than the Texas Department of Education. You use the term progressive to describe yourself because you know "liberal" doesn't fit anymore. "Liberal" is what I am and always have been. The Republicans have always been illiberal. If the Democrats go that way (and they have, in a massive way) there's nothing left. It's over. So I focus my energies that way rather than stumping for the less moronic, more sophisticated forms of illiberalism. But thanks for calling me right wing anyway.

Also, by the way, there are actually some Republicans who are sincere on the civil liberties front and on the government oversight front. I haven't seen too many Democrats in the last six years worrying about abuse of power by the FBI, CIA, NSA, etc. Yes their interest in the issue is self-serving, but at the moment, who else is even looking that way?

FROOMKIN: I absolutely believe that Republican views based in reality, argued in good faith, and not preaching hate or violence should be part of any op-ed page. That's very much what I call "reasonable debate." What I'm saying is that sometimes it's even worth printing views that violate those standards and are highly offensive to some people, if they are an important part of the public discourse; I think the best way to do that is with complete transparency, i.e. explaining why. I said you're throwing in with the right because you share their talking points about the existential threat of the illiberal left. I totally agree that Big Tech, Wall Street and PhRMA are hugely powerful and threatening and are engaged in censorship. I think that's systemic and worth writing about a lot. But that doesn't excuse minimizing the overt and material threats posed by GOP-run states and, potentially, a U.S. government controlled by Trumpists. That terrifies me so much more these days. And it doesn't excuse getting hyperbolic about anecdotal evidence of excesses by groups trying to right the balance in academe and elsewhere between cis white men and everyone else. What about all the people who get fired for supporting unions? If I saw the Democratic Party "going the way" of censorship and banishing people like AOC, yeah, I'd be right there with you. And yeah, I find their cozying up with the IC to be super alarming. That's one of the points you and Glenn are making that I support hugely – and I think it sucks that you guys aren't taken seriously about that because of the other stuff you write. Anyway, despite your unmerited attacks on me in this discussion, I also see a lot of what I know and love about Matt Taibbi, and I hope to see more of that side again.